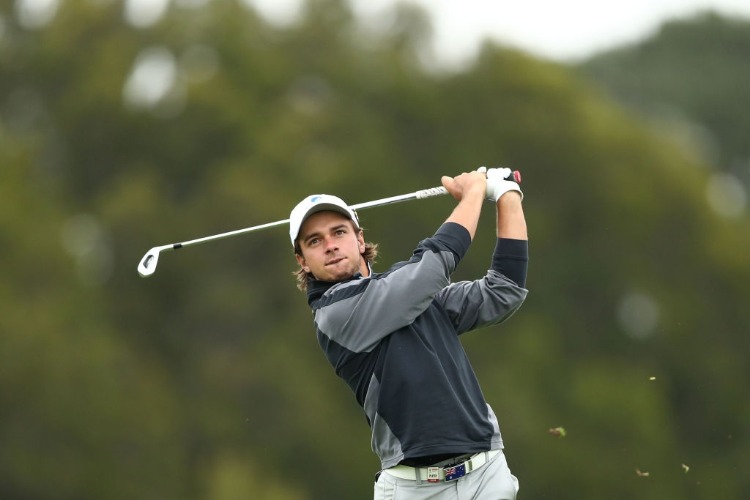 David Micheluzzi has booked his ticket to the 151st British Open at Royal Liverpool with a dramatic victory at the NSW Open, the penultimate event of the PGA Tour of Australasia's summer circuit.
A final-round six-under-par 66 earned Micheluzzi a one-stroke win over Kade McBride, who bogeyed the 72nd hole to cruelly miss forcing a playoff at Rich River.
McBride led for much of the weekend and started championship Sunday five shots clear of Micheluzzi, only to falter when it mattered most.
Micheluzzi finished on 20-under par following rounds of 67-66-66-65.
"That's probably the best tournament I've ever played," he said.
"I'm just hitting it so good at the moment."
But he could still barely believe he'd won after rattling off six birdies in the last 13 holes to snatch the Kel Nagle Cup and first $72,000 prize.
"Still trying to gather what's just happened," said the former Australian amateur champion.
"I just played solid. I didn't do anything really amazing.
"I had a chip-in on nine, which kick-started things."
The 26-year-old's third title of the summer, following wins at WA PGA Championship and TPS Sydney, sealed all-important PGA Tour of Australasia Order of Merit honours and a host of career-changing benefits.
In addition to earning a start at Hoylake for the season's final major from July 20-23, Micheluzzi secured playing rights to the DP World Tour in 2024 by winning the OOM.
"The next two years is going to be very fun," he said.
"So cool. So cool. That was the goal at the start of the year.
"We didn't go to any Q (qualifying) schools. Just tried to win the Order of Merit and to do it with one tournament to play, I'm stoked."
McBride has not won on the primary tour and he will take a lot from this week.
Despite his final-hole issues, he still fronted up to speak to the media.
"I'm alright with it. I was playing to win," he said.
A birdie at the par-5 18th hole would have given the Gold Coast professional the win.
But the 28-year-old had to lay up short of the green after his drive went slightly left, and his wedge from 100 metres out caught the collar of a greenside bunker by a factor of centimetres.
From there, he blasted out beyond the flag, made double bogey, and had to sign for a one-over-par 72 and the $40,000 runner-up's prize.
"It just missed by a smidge," said McBride. "And in that bunker is as dead as dead gets."