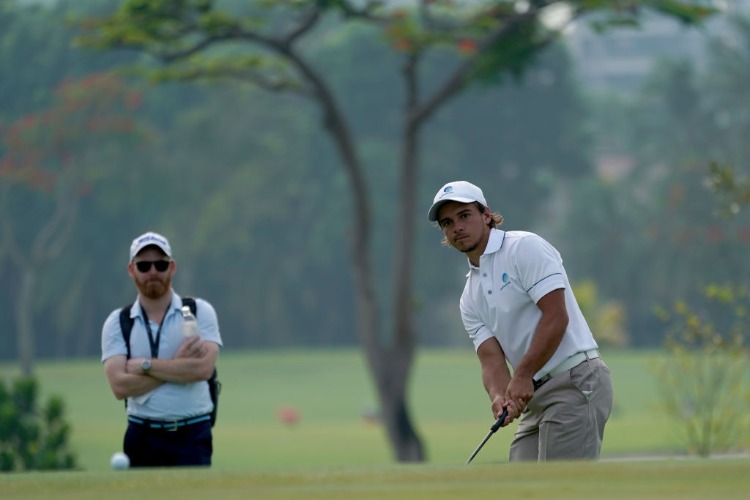 Australian golfers David Micheluzzi, Andrew Martin and Tom Power Horan will take their games to the international stage after being confirmed as recipients of DP World Tour cards for season 2024.
The 2022-2023 Tour of Australasia season concludes this week with The National Tournament at The National Golf Club on Melbourne's Mornington Peninsula but the top three Order of Merit finishers have already been settled.
A three-time winner this season, Micheluzzi's victory at this month's NSW Open guaranteed him No.1 on the OOM standings with one event left to play, with a prized start at the British Open at Royal Liverpool also safely in his back pocket.
While their final positions can still switch, Martin and Power Horan are also guaranteed top-three finishes and a direct pathway to the DP World Tour following the withdrawal of both Brendan Jones and Michael Hendry from this week's field.
The playing rights for the 2023-24 season on the DP World Tour are just reward for three of the most consistent performers across the season and vindication for Micheluzzi in particular.
As other tour members sought status at qualifying schools throughout the world in the second half of 2022, Micheluzzi dedicated himself to the path he saw in front of him on his home tour.
He won the WA PGA Championship in October and TPS Sydney in February before triumphing at the NSW Open.
"Three wins in the space of 14 events, I'm just stoked," Micheluzzi said.
Courtesy of his Order of Merit exploits, Micheluzzi will make his major championship debut at the British Open, joining the likes of defending champion Cameron Smith, Asia-Pacific Amateur winner Harrison Crowe and West Australian Haydn Barron.
Barron earned his start with a tie for fourth at the Australian Open which forms part of The Open Qualifying Series.
"To play the first major at The Open - best major in my opinion - and to play it at Hoylake too, that will be so cool," Micheluzzi said.
"I'm so excited."
There is still plenty to play for this week at The National.
The top five on the OOM are also exempt into the final stage of the Korn Ferry Tour Q School and the top three not otherwise eligible are exempt into final stage of DP World Tour Q School.
Players ranked sixth to 15th are exempt into second stage of Korn Ferry Tour Q School and those ranked fourth to 10th not otherwise eligible are exempt into second stage of DP World Tour Q School.
The top 50 finishers on the OOM who played a minimum of four events will retain their full playing rights for the 2023-24 PGA Tour of Australasia season.