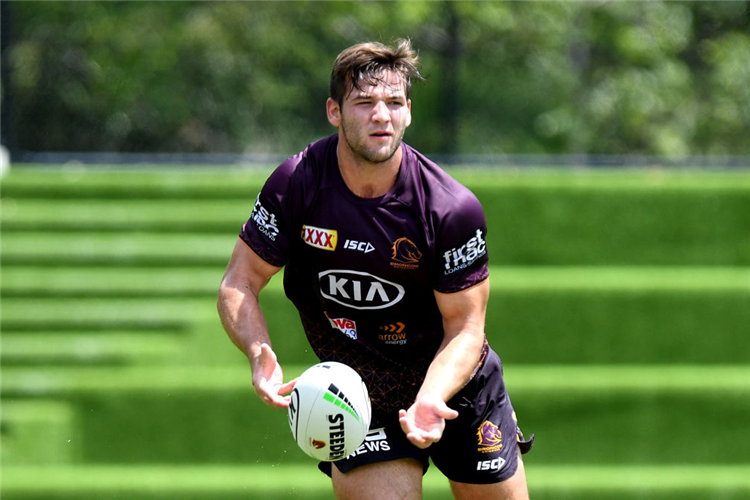 Broncos prop Pat Carrigan is a fan of The Man in the Arena speech by former US president Theodore Roosevelt, and this year he wants to spend more time in the arena of club football than he did last season.
If Carrigan can get the 14 NRL games he played last year up beyond 24 he will be a happy man.
The 25-year-old shone in his first season of representative football in 2022, winning the Wally Lewis Medal player of the series award in Queensland's 2-1 State of Origin success before featuring in Australia's triumphant World Cup campaign.
A knee injury and a four-week suspension for a hip-drop tackle on West Tigers' Jackson Hastings late in the season limited his Broncos game time, however.
"It was pretty tough watching that four-week period. I did feel a bit of responsibility," Carrigan said after Broncos training on Monday.
"There is definitely something on my shoulder that wants me want to play a lot of games of footy this year and continue to improve this club. I want to be playing finals footy."
On his right forearm Carrigan has a small tattoo that says, 'It is not the critic who counts', a grab from a 1910 speech Roosevelt gave at Sorbonne University in Paris.
The speech goes on to say, 'The credit belongs to the man who is actually in the arena, whose face is marred by dust and sweat and blood'.
Carrigan epitomises all those wholehearted traits when he takes to the footy field.
The Broncos, who have not played finals since 2019, will need him on the park in 2023 more than he was last season.
"When you think about 14 (games), it doesn't look like you did too much," Carrigan said when reminded of his game tally.
"I need to be on the field as much as I can this year. There are still a lot of boxes I want to tick here at the Broncos.
"Spending time with the Penrith boys at the World Cup and the success they built - it is something I envision for us here and want to be a part of."
The Broncos started last year well, but did not maintain the standards Carrigan said the best teams do.
"The good teams start the year well but build and get better," he said.
"You see that with teams like the Chooks and Penrith, Melbourne ... and by the time they get to September they are really firing.
"It is the perks of having a young group that we are up and about early on (in the season) ... but something we have to work on is our consistency."