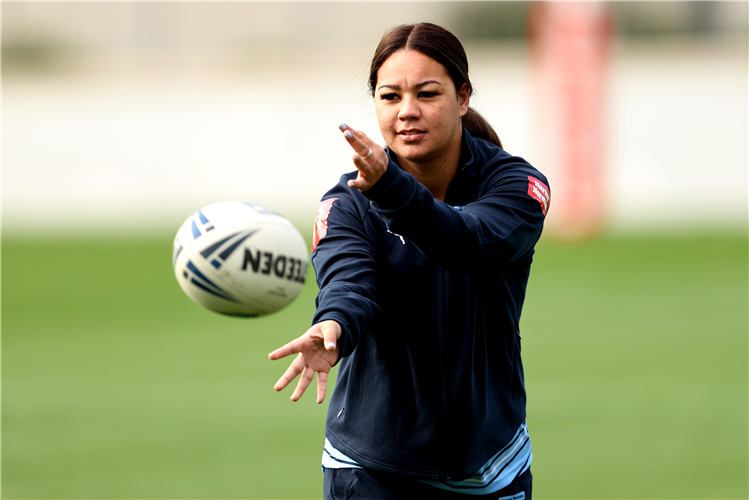 Jillaroos prop Kennedy Cherrington is risking her rugby league future to honour her Maori culture in next month's All Stars clash in Rotorua but it's a choice she insists she shouldn't have to make.
Cherrington, like all the players in the February 11 game, are taking part at great personal risk.
While the CBA negotiations between the RLPA and NRL remain unresolved, none of the NRLW players have contracts in place that they otherwise would.
One serious injury in the All Stars game and a prospective professional contract would be in jeopardy.
"I am putting my hand up to play because the week and game are so important to me personally," Cherrington told AAP.
"To experience my culture and communities and share that with my family is so special.
"There is no question players are going into the game taking on massive risks. No player has a contract for the next NRLW season and private health insurance is no longer covered by the game. That expired on December 31.
"We want the NRL to get to the table and negotiate because the CBA need to be agreed by the players via the RLPA. That's our expectation because that's their role."
Newcastle star Tamika Upton has already pulled out of the Indigenous All Stars side due to the uncertainty.
Cherrington gave a speech to teammates after Maori All Stars training on Sunday where she said no-one would be judged if they elected to do the same.
"I addressed the elephant in the room because I know there is a lot of nervous energy around the campaign," she said.
"I said in no way is the RLPA asking any player to miss this game, but I also explained that due to no contract stability there is a risk if you get injured.
"I said there is a lot of outside noise but we just have a focus on our All Stars campaign. It is going to be very significant for our team because this is the first time it will be played on our home soil in Rotorua."
The NRL told AAP players would be provided with insurance for the All Stars game, but Cherrington said that was not the same as the comprehensive private health insurance the players previously had that was provided by the clubs, because the players are not contracted.
"And the perfect example is Golden Boot winner Raecene McGregor, who just suffered a six to eight week MCL injury at our training," she said.
Broncos prop Pat Carrigan called on the NRL to come to an agreement with the RLPA for the sake of the women's game. He said it was wrong that NRLW players were forced to risk injury to play All Stars while uncontracted.
"The girls can't even sign contracts yet," he said.
"To see where the women's game has got to, and for us to be still talking about that, is pretty disappointing.
"It is pretty big when someone like Tamika is pulling out of a game that I am sure she is very passionate about for her culture and wanting to represent young Indigenous girls. I think that shows the magnitude of it."