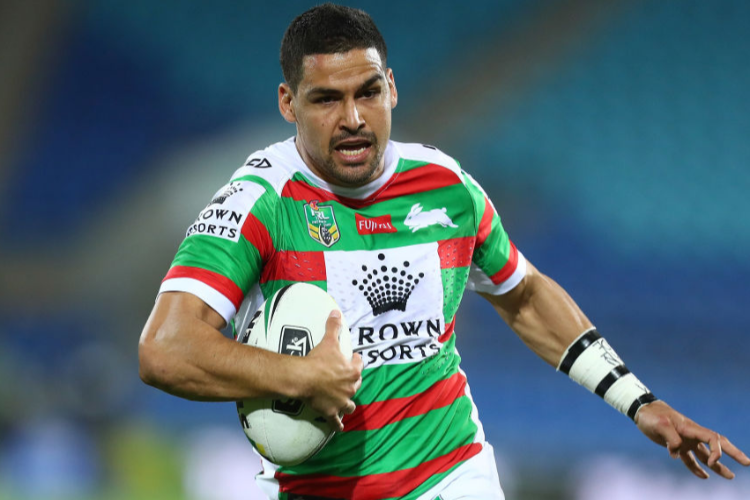 Damien Cook says it's up to Cody Walker's South Sydney teammates to keep his aggression in check by laying a better platform for the fiery five-eighth.
Just after the Sydney Roosters saved what appeared a certain Rabbitohs try on Friday night, a frustrated Walker pushed Tricolours halfback Sam Walker to the ground in backplay and found himself penalised.
The penalty gave the Roosters a free pass into enemy territory, where they earned another penalty and scored the try that ultimately sealed a 20-18 win.
The match review committee later charged Walker with grade one contrary conduct and fined him $1,000.
Walker has a history of lashing out at opposition teams who bait him.
He notably refused to shake Cameron McInnes' hand last year following a tight loss to Cronulla, and became involved in a tussle with Penrith's Nathan Cleary during the 2021 grand final after throwing a pass that was intercepted by Stephen Crichton.
However, Walker's Souths teammates believe his passion shows how much he cares, and they won't be asking him to change his ways any time soon.
"I love when he's in his competitive nature like that. He's in the game and he's wanting to win. That's what I love about him," Cook said.
Few know the five-eighth better than Cook, whose late development into a first-grader coincided with Walker's. The pair have also played together at State of Origin level four times and in the final City-Country Origin game in 2017.
Cook said the key to curbing Walker's aggression was to take the pressure off him, something the Rabbitohs failed to do on Friday when they made 15 errors.
"You've got an attacking player like Cody who can't get the ball in his hands because we're dropping the ball. No doubt he's going to get frustrated," Cook said.
"If he wasn't getting frustrated, you'd think there's something wrong with him because he wants to be out there and he wants to win.
"We've got to make sure we do our part to not let him get frustrated, put him in the right position, and let him and Latrell (Mitchell) do the rest."
Walker and Lachlan Ilias are into their second season as halves partners and the young halfback is confident the veteran knows where the line is when it comes to his temper.
"He's an angry man," Ilias joked, adding Walker had lashed out in the "heat of the moment" against the Roosters.
"He knows when to calm down.
"He knows where the line is. He's one of the leaders in our team so everyone looks up to him."
Hame Sele joined the Rabbitohs' casualty ward on Friday, putting more strain on the side's middle forward rotation and increasing the pressure on Walker and Ilias to provide for their teammates with a weakened platform.
Sele (concussion), Shaq Mitchell (foot), Jai Arrow (hamstring), Siliva Havili (ankle) and Liam Knight (knee) are unavailable for Saturday's clash with Manly.
"It changes the game not having three or four middles on the bench," Ilias said.
"The boys do get tired but it's something you've just to live with and adapt to."