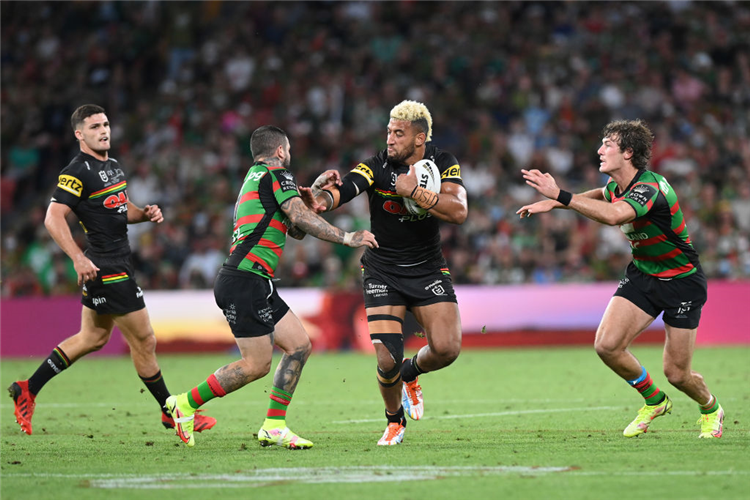 Penrith's new-look left edge are going back to the drawing board this season in a bid to build on the prolific ways of previous years.
In the Panthers' 2022 premiership-winning season, centre Izack Tago, winger Taylan May and second-rower Viliame Kikau combined for 38 tries - almost a third of the output of the entire Top-30 squad.
But with Kikau now in full flight at Canterbury and May sidelined for the year with an ACL tear, Tago is negotiating the challenges of having two new players next to him.
Rangy ex-Tiger Luke Garner has taken Kikau's spot at second row, while rookie Sunia Turuva - Tago's former NSW Cup teammate - is lining up on the wing.
The Panthers mined their left edge for points in back-to-back premiership seasons but Tago is feeling no pressure to teach his new teammates the tactics of past years.
Instead, the centre expects the new trio to make the left edge their own.
"I was there last year so I sort of know the dynamic of how a left edge plays," Tago told AAP.
"But they're both two different players, Garns and Tito (Turuva).
"We've got to find our own way and do things how they work for us now and just excel at that.
"Everyone's a professional athlete so they know their jobs pretty well."
The Panthers have started the season with a tight loss to Brisbane and a win over fast-finishing South Sydney.
Tago has been impressed by his new teammates' efforts so far. Garner twice came close to scoring in the first half against the Rabbitohs, while Turuva ran for more than 150 metres in both games.
"(Turuva) is a good talent, great feet, really strong and athletic. I'm just excited for him. I'm expecting a big year for him," Tago said.
"Garns is definitely different stylistically (from Kikau). He brings his own benefits in terms of his style.
"We're only just scratching the surface in terms of chemistry."