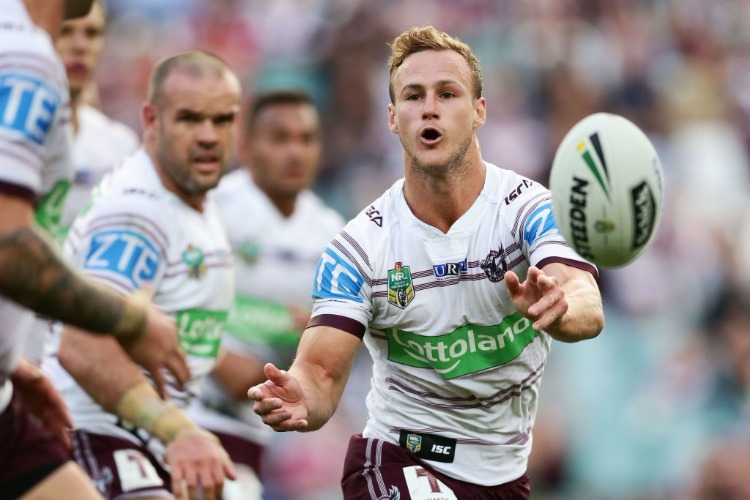 Josh Schuster has revealed how Daly Cherry-Evans warned him he was on track for a short, wasted career if he didn't turn things around at Manly.
Schuster starred in his first outing as the Sea Eagles' full-time five-eighth last week, contributing to four tries in Manly's 34-30 win over Parramatta.
The 21-year-old has long coveted the Manly No.6 jersey, and admitted he struggled to sleep the night before as he was so nervous about the match.
He is desperate to hold onto the role after starting his career in the back row at Manly, declaring he wants to be club's No.6 for the next 10 or 15 years.
But Schuster is also aware of how significant this season is for him,
After a breakout year in 2021, Schuster was restricted to being a bench player last campaign while limited to 13 games due to ankle injuries and fitness concerns.
It prompted him to skip last year's World Cup with Samoa, shedding 15 kilograms through a long pre-season at Manly to get himself fit to wear the No.6.
And he did it all with a blunt message from Sea Eagles captain Cherry-Evans in the back of his mind.
"Chez had a word for me at the end of last year," Schuster recalled. "He said: 'The way you're going, you're going to have a short career. It's up to you. You can't depend on anyone else but you. If you want a long career, you have to own it with two hands and stand on your own two feet.'
"I took it personally. Which is a good thing."
Schuster has long been regarded as one of the game's best talents, with Benji Marshall labelling his debut in 2020 as the best he had seen in the NRL.
He will mark up against another of the NRL's rising stars in the halves on Saturday night, with Lachlan Ilias controlling South Sydney's right edge at Accor Stadium.
Asked if Cherry-Evans had indicated he feared the young playmaker would become a wasted talent, Schuster suggested that was the case.
"I'm so sick of that word, talent," he said.
"I don't want to be known as a guy with so much talent, but just a waste. I want to be No.6 for 10, 12 or 15 years.
"He knows what I'm capable of and my potential in the game. I think it was just a little kick up the bum.
"To get advice like that from him, it'd be stupid not to pick his brain and take it on board.
"It's my first game. I can play bad next week and the whole world's coming down. My main focus is next week."