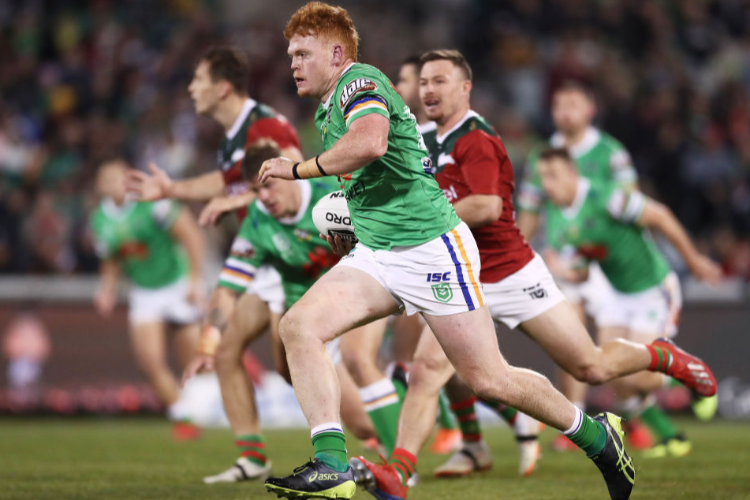 Cronulla enforcer Royce Hunt has warned Corey Horsburgh he plans to seek retribution for their on-field scrap, labelling the Canberra firebrand a "weak-gutted dog" and promising to "bash" him.
A furious Hunt was sin-binned in the Sharks's loss to Canberra on Sunday, after he landed a jersey punch to the head of Horsburgh during the second half.
Hunt, frustrated by the altercation, has accused Horsburgh of hiding behind Jack Wighton after holding his Cronulla rival in a scrum and pushing him to the ground.
Asked on Wednesday if he thought it was poor form from Horsburgh, Hunt replied: "Definitely.
"As Ricky Stuart would say, he's a weak-gutted dog.
"We'll get him next game."
Hunt's comments mimic that of Stuart's last year after the Canberra coach used the same term on Penrith playmaker Jaeman Salmon.
Stuart was subsequently suspended as Raiders coach for one match and fined $25,000 for the comment.
The Cronulla prop has already taken note of the Sharks's final-round clash with Canberra and Horsburgh later this year, and has made no secret of the fact he will keep it in the back of his mind.
"We'll see if he fronts up," Hunt said.
"I have never seen a front-rower hide behind a halfback.
"You can't just hold me in and push me over and not expect anything. I was a bit upset about that.
"That was a pretty low act.
"It is what it is, it's rugby league. We get on with it and bash him next game."
Hunt admitted the jumper-punch proved crucial as Horsburgh scored immediately after the altercation and Canberra crossed again while he was off the field in the 24-20 win.
Sharks coach Craig Fitzgibbon said after the match both Horsburgh and Hunt were in the wrong as the Shark was unfairly held back but shouldn't have retaliated.
"I was a bit upset we lost," Hunt said.
"I got sent for 10 and put the boys under pressure. I was upset at myself for getting sent for 10 and letting him get under my skin."
Hunt and Horsburgh spent time together in the system at Canberra and were teammates at Mt Pritchard in NSW Cup in 2018.
Horsburgh hit back with a social media sledge on Wednesday evening, sharing an image with Hunt's head super-imposed on a child's body with the caption: "Really happy for my little boy watching Daddy score 2 tries".