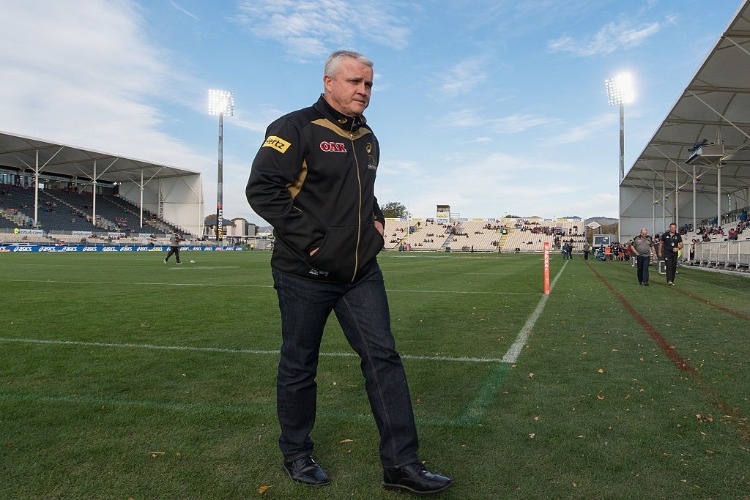 St George Illawarra prop Blake Lawrie has declared he's ready to fight for Anthony Griffin's future, after Dragons bosses told the coach they were considering their options for 2024.
Dragons officials informed Griffin last month of their desire to canvas possible replacements for next year, 12 months on from extending his contract until the end of 2023 in last year's pre-season.
AAP has been told officials were adamant to Griffin at the time his fate had not yet been sealed, but rather they wanted to know who was available if they did not re-sign him.
There is a belief within the club they are acting in an honourable way, keeping Griffin in the loop rather than going behind his back and approaching other coaches to gauge their interest.
No formal interviews will begin until a final call is made on Griffin and, while there is not timeline on that, officials do believe a decision will become obvious in coming months.
While Griffin was informed of the club's position last month, Dragons players first learned of the situation this week after their loss to Brisbane and ahead of Sunday's derby with Cronulla.
But even they admit they are not surprised, after two years out of the finals under Griffin.
"That was always bound to happen, we knew that after the past two years of not having much success," Lawrie said.
"He was off contract. It is what it is.
"I know what I need to do, and that is contribute to win games. I need to make sure all 40 of us in the squad contribute to win games.
"We need to play finals football, if not, the club will get turned upside down."
Lawrie was at the Dragons in 2020 when Paul McGregor left after months of speculation, and was adamant the latest drama would not be a distraction for players.
But he is desperate to win games and keep Griffin at the club.
The front-rower re-signed on a three-year deal with the Dragons in January, unconcerned by ongoing talk about Griffin's future.
"I'm going to do everything I can for Hook and my teammates," Lawrie said.
"I have a good relationship with Hook. I had one of my best years last year under Hook. I think my best year is ahead of me under Hook as well.
"The coach can't go on the field and play the games for us.
"He puts the game plan in place, and we have to execute the game plan to the best of our ability.
"Ninety-nine times out of 100, if we execute the game plan to what he says we will win. It's as simple as that."
Fellow prop Zane Musgrove said he was also desperate for Griffin to stay, after being brought to the Dragons by him last year when unhappy with Michael Maguire's Wests Tigers axing.
"We all love Hook and want to play for him," Musgrove said.