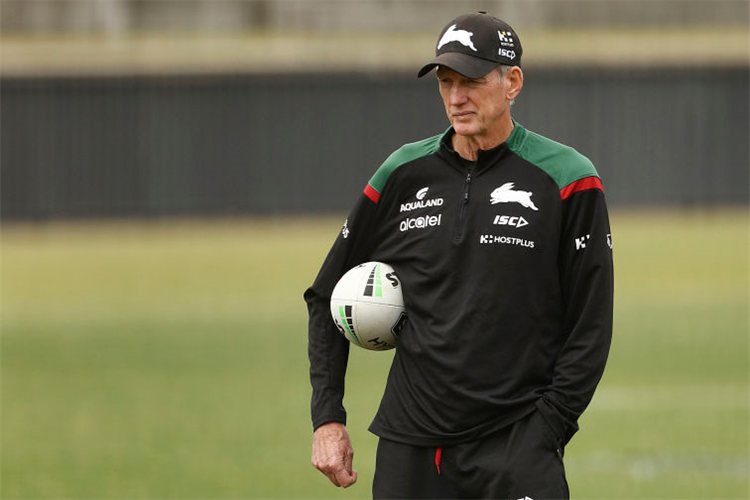 Wayne Bennett admits coaching the Dolphins against Brisbane on Friday night surpasses anything he could have envisaged when sacked by the Broncos in 2018.
Even after nearly half a century in coaching, Bennett will be nervous when he enters the home sheds at Suncorp Stadium ahead of the Battle for Brisbane to guide his NRL newcomers against the club where he won six premierships.
At his pre-game press conference at the stadium on Thursday, the 73-year-old said the first clash between the teams - both undefeated - means "a great deal" to him personally and to the wider game.
That he could be back coaching another Brisbane team against the Broncos less than five years after his sacking seemed a script too unlikely to be written.
"You are probably right," Bennett grinned when that was put to him.
Did he imagine it in his wildest dreams?
"No," the coach answered wryly. "I don't dream much."
Bennett has previously spoken of his hope that the Brisbane NRL derby can be like a Manchester United v Manchester City rivalry, with everything that goes with it.
One difference in his situation is that United's legendary manager Alex Ferguson never coached Manchester City.
"He didn't...no. He didn't get the sack from Manchester United either," Bennett chuckled.
Bennett said his sacking was not motivating him ahead of the sold-out derby clash.
"No it doesn't, but I am really pleased for the game. I think it is a magnificent promotion by the NRL to put the Dolphins in," he said.
"To be here in week four and have the whole state and probably the whole country engage in this game, from that point of view it is outstanding.
"It has captured the public's imagination. It will certainly be the biggest crowd that will be here for a club game that I can remember."
"All the great cross-city rivals in the world are the best of what makes sport great theatre...and I am proud to be a part of it."
When aged 16, Bennett was a cadet at the police barracks on nearby Petrie Terrace where he lived for three years. He would gaze at Lang Park, now Suncorp Stadium, wishing to one day be a part of its magic.
"It has always been my home ground. I sat there afternoon after afternoon hoping...there wasn't a day went by that I didn't want to be a part of it," he said.
"I've had some great moments and some terrible moments (at the venue). That goes with the job. It has been a pretty special place and will always be in my heart."
It is why he said he would have some pre-game butterflies
"I probably will tomorrow night. I think that will be part of the DNA for me," he said.
The Dolphins will make a call on Friday on whether young No.6 Isaiya Katoa plays against the Broncos with former Brisbane star Anthony Milford on standby.
Prop Poasa Faamausili comes onto the Dolphins' bench for the suspended Felise Kaufusi.