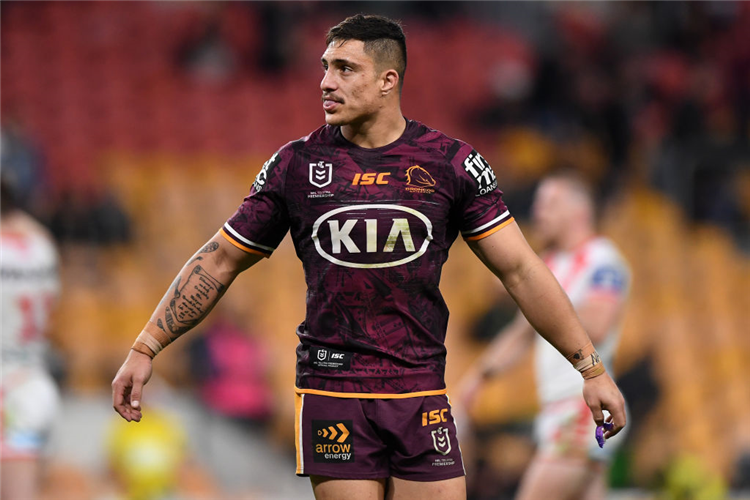 Brisbane centre Kotoni Staggs scored the match winner in the 18-12 derby win over the Dolphins and says his post-try celebration reinforcing "who owns Suncorp Stadium" was all about making a point dear to Broncos' hearts.
Before the game, the Dolphins CEO Terry Reader had said the Broncos were now "co-tenants" of Suncorp Stadium with the new team.
While technically true, the Broncos were at pains for most of the week leading into the game to make the point that it was still their spiritual home.
The subject resonated with Staggs who raced 100 metres to score the final try in the 77th minute on Friday night before becoming animated and vocal.
"I just said, 'This is our home'. There might have been an 'F' word there but I was just a bit emotional with such a good way to finish the game," Staggs said.
"We knew the battle against them was going to be about who owns Suncorp ...with another Brisbane team coming in. That just came straight to mind when I scored. It is our home.
"The Cowboys have been a good game in previous years and we have another now with the Dolphins."
When Staggs started off his career, he played for Redcliffe Dolphins in the Queensland Cup, a club that he still holds in high regard.
"When I first made my way to Brisbane from Wellington in NSW that was my feeder club," he said.
"I have got a lot of respect for the Redcliffe Dolphins. They gave me an opportunity and we won an Intrust Super Cup (Queensland Cup) grand final when I was there.
"They will always hold a special part in my career and it is good to have them in the game."
Despite his appreciation for the Dolphins as an organisation, Staggs said he did not hold talks with them about joining the new NRL franchise.
"When there was talk about another team coming in...I had already committed to the Broncos for four years before the Dolphins came out," he said.
"I knew where I was stable and that I was going to play my footy at the Broncos."
Staggs admitted it wasn't a complete performance by the Broncos against the Dolphins but after four wins in a row the side is oozing confidence and desire.
"I think we are just hanging in there. Our big focus is defence. We know we have got attack," he said.
"Walshy (fullback Reece Walsh) did an error at the back end of the game and in previous years we would have put our heads down and been gone, but we stuck in and got back and defended our line."
Staggs spent most of 2021 on the sidelines after rupturing an ACL in late 2020. He returned to his best in early 2022 before gaining his NSW debut in Game One of State of Origin, but suffered a shoulder injury and was not selected in the final two games.
"Everyone wants to play footy at the highest level and that's Origin," he said.
"My footy at the Brisbane Broncos will do the talking ... and hopefully I'll find myself in the team again."