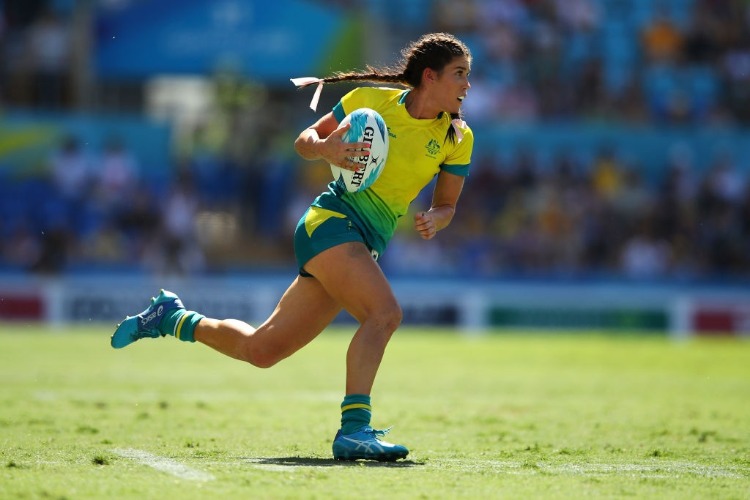 France have broken Australia's hearts in the Sydney Sevens with narrow men's and women's quarter final wins over the host nation at Allianz Stadium.
While Australia completed three-match pool clean sweeps in both sections, they found it hard to score against the French.
The women went down 10-5 in a major boilover, before the men lost 17-14 later on Saturday evening.
It was two tries each in the men's game, with a late penalty earning France a win and a semi-final spot against New Zealand.
In the women's quarter-final, fifth-ranked France were good value for their win over the second-placed Aussies, the defending World Series champions.
They scored two tries to one late score for Faith Nathan and forced Australia to defend for much of the match.
In the men's competition, France scored the first try when Theo Forner brushed off James Turner and sprinted away.
Australia - without captain Henry Hutchison who injured a knee in their final pool game - responded, with Tim Clements rounding off a good passing move and Josh Turner crossing just before halftime to set up a 14-7 lead at the break.
Forner raced over for his second try as France levelled the scores with four minutes to go.
"I was really proud of their effort and their fight, but probably a couple of times we were carried into touch where we probably needed to stay in," men's coach John Manenti said.
"I'm gutted for them because I know how much it meant to them to go well in this tournament.
"(Hutchison) had an MRI, we don't know the results yet ... it's looking like he could be out for a little while."
In the other quarter-finals, New Zealand beat Samoa 12-0, South Africa defeated Ireland 26-12, and Fiji scored a 26-14 win over Great Britain.
New Zealand will play France in one semi, while South Africa face Fiji in the other.
Australia's men went into the tournament in seventh spot overall, one place and one point behind France. They can finish fifth in Sydney if they beat Samoa and the winner of the Ireland-Great Britain match.
Like their male counterparts, Australia's women cannot finish any higher than fifth in Sydney.
They will need to beat Great Britain and then the winner of Fiji versus Japan.
It will be the first time in four Series events this season the Australian women have not made at least the semi-finals.
"(France) defended really well, they deserved to win the game," Australia's women's coach Tim Walsh said.
"I can't fault the way that the girls had a crack - a couple of things, the bounce of the ball sometimes, and it can be a different game."
The other quarter-finals went according to rankings, with New Zealand swamping Japan 33-0, Ireland defeating Fiji 26-12 and the United States shading Great Britain 10-5.
France earned a last-four assignment against the United States, while New Zealand will play Ireland in the other semi-final.