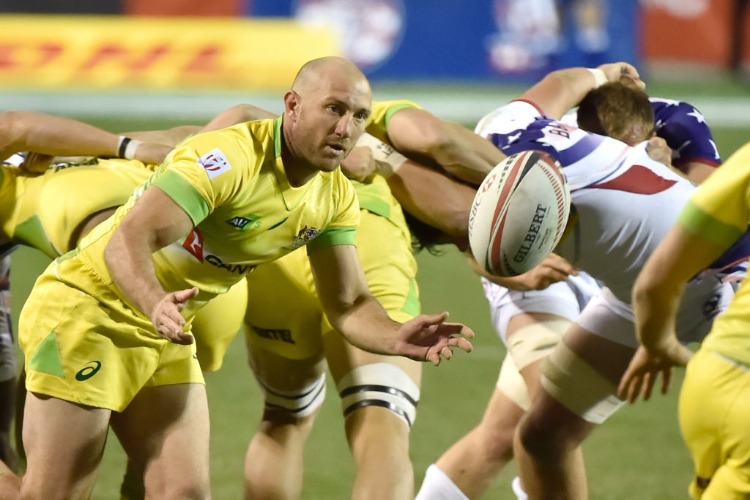 New Zealand have produced powerhouse performances to win both sections of the Sydney Sevens, as Australia's teams lost ground to some of their rivals.
The Kiwi men avenged a 17-14 pool loss to South Africa by smashing the injury-hit Blitzboks 38-0 in the final at Allianz Stadium.
The New Zealand women's team were equally dominant, crushing France 35-0 in the gold medal match, winning their third straight Sevens Series tournament and not conceding a point in their last three games.
Australia finished fifth in the women's, while their male compatriots ended joint seventh.
More than 66,000 attended over the three days, with new Wallabies coach Eddie Jones among the spectators on Sunday just hours after arriving in Australia.
Upset in the women's quarterfinals by France on Saturday, Australia rebounded on Sunday, beating Great Britain 19-0 and Fiji 36-12.
"It was really character-building. I think they played really well today," coach Tim Walsh said.
Charlotte Caslick's double against Fiji took her to 143 tries, the most by any Australian in the women's Sevens World Series, eclipsing the mark of 141 set by Ellia Green.
"I think we've learnt a lot out of this tournament and we've still got a really young side," Caslick said.
Caslick, the reigning women's sevens world player of the year, added: "I've been playing for so long that I guess over time I've collected a few points. I'm a ball player so I don't really do too much thinking about scoring the tries."
The women's team has dropped 12 points behind New Zealand in the overall standings and are now second only on points differential ahead of the United States, who took bronze in Sydney with a 12-5 win over Ireland.
Only the top four men's and women's teams at the end of the season automatically qualify for next year's Olympics, with the Australia women 14 points ahead of the fifth-placed side.
The men's side dropped one place to eighth, six points off fourth.
They made multiple errors in their 24-10 loss to Samoa in their only match on the final day.
"We can come up with a lot of excuses. At the end of the day we didn't turn up in pressure moments in that last game, we didn't stick to our structures," Australian assistant coach James Stannard said.
"We pride ourselves on being consistent in our performances and we were far from that this weekend."
Captain Henry Hutchison is expected to miss the remainder of the series as officials believe he suffered an anterior cruciate ligament knee injury on Saturday.
New Zealand was the fifth different winner in as many mens tournaments this season and have. Increased their lead on the table from two to nine points.
Fiji won the mens bronze medal, beating France 29-5.
There are six rounds remaining in the mens competition with the next event in Los Angeles in late February and three left for the women, with their next stop in Vancouver in early March.