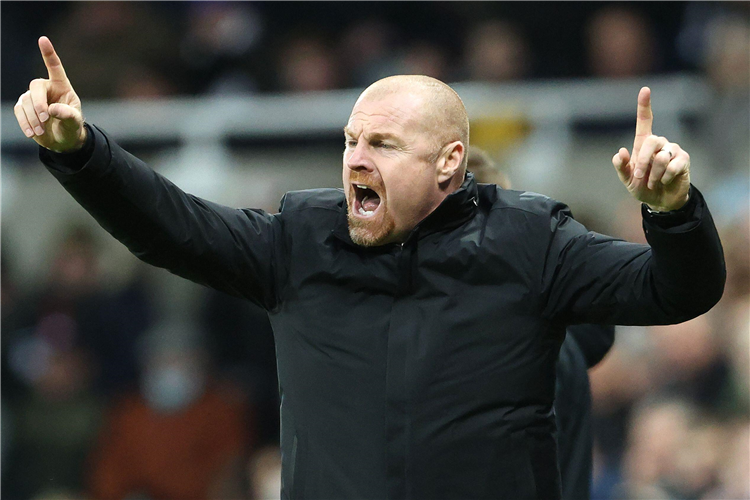 For years, as Everton burned though expensively-acquired players to little effect, Sean Dyche would be name-checked as the Premier League club churned through managers just as carelessly.
Then the grand old team would turn to someone more illustrious, more exotic, more glamorous - more in keeping with the self-styled School of Science than the gravel-voiced, uncapped former lower-division enforcer.
All the while Dyche kept low-profile Burnley in the Premier League on a shoestring.
On Monday, nine months after Burnley sacked him on their way to finally being relegated, Everton at last turned to Dyche.
The 51-year-old signed a two-and-a-half-year deal with a simple remit: extend Everton's 69-season stay in the top flight.
Even then, they first wanted Argentine Marcelo Bielsa, who is all of illustrious, exotic and glamorous, but also not easily persuaded to take over an ailing club mid-season.
For all their storied history Everton are not that attractive a prospect, being where one would expect a club to be on appointing their eighth permanent manager in seven years: deep in trouble with one win and 11 defeats in their last 14 games.
Next year they move into a new 53,000-seat stadium in Liverpool's docklands, at a cost in excess of A$1bn, and doing so as a second-tier club could be ruinous.
They are, though, only two points adrift of safety and Dyche has $A75m to invest after the sale of Anthony Gordon to Newcastle, albeit he has only until the end of the transfer window on Tuesday night to spend it.
Dyche takes over from Frank Lampard, who was sacked last week after less than a year in charge.
His first match is against leaders Arsenal on February 4, followed by the Merseyside derby at Liverpool on February 13.
"It's an honour to become Everton manager. My staff and I are ready and eager to help get this great club back on track," Dyche said.
Ian Woan, Steve Stone and Mark Howard have also joined the club as part of Dyche's backroom staff.
Dyche added: "We want to change the shape of this club going forward, remodel it in our style, but in a way that we can win. That's the task in front of us -- make sure we're building, tactically and technically, giving players organisation, allow them the freedom to play, to go and enjoy their football because it's brilliant when the team's playing with a smile, but we've got to win.
"There is quality in this squad. But we have to make them shine.
"I know about Everton's passionate fanbase and how precious this club is to them. We're ready to work and ready to give them what they want.
"That starts with sweat on the shirt, effort and getting back to some of the basic principles of what Everton Football Club has stood for for a long time."
Everton have won nine top-flight league titles, but their last major trophy was the FA Cup in 1995 with their last championship coming in 1987.