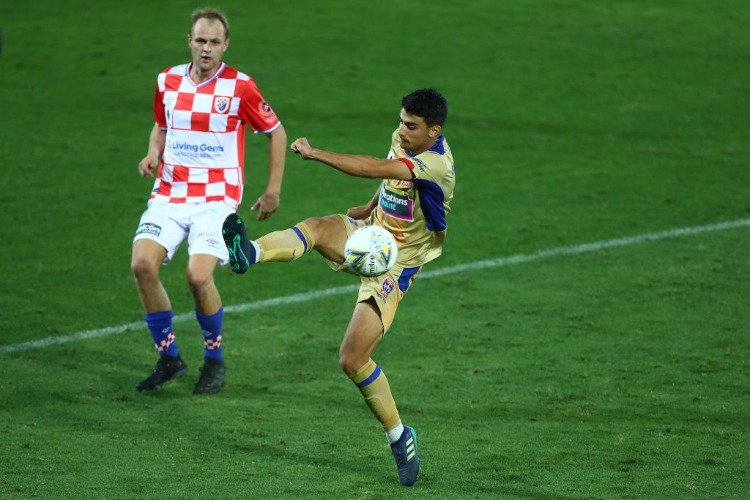 Perth Glory will embrace a make-or-break final six weeks of the A-League Men season as they attempt to return to the finals.
The Glory were able to briefly bask in last Friday's dramatic 10-man upset 1-0 win over Western Sydney, delivered by Aaron McEneff's 96th-minute winner, before turning their attention to this week's away trip to Newcastle.
Last season's wooden-spooners are 10th in the league on 23 points - only four points behind sixth-placed Sydney FC with six games to go.
Defender John Koutroumbis said he and his teammates will draw upon that Western Sydney win as they target the top six.
"The weekend is a great example of what the boys believe in," he said.
"We go down one man in the second minute, you think, 'Some teams crumble' - and most teams do, playing 90 minutes with only 10 men.
"So there's a big belief, a big desire to push for finals and you never know with football - we could even get a home semi-final. Who knows?
"But we just need to keep our heads screwed on and focus one game at a time."
For their part, Newcastle - eighth on 24 points - will attempt to bounce back from last weekend's 4-2 loss to Adelaide United to keep themselves in the finals hunt.
A former Jet, Koutroumbis was wary of the threat Arthur Papas' attack-minded Newcastle could pose at McDonald Jones Stadium.
"The last two years, Newcastle have definitely changed the style of play that they were used to when I was there," he said.
"They've implemented a lot of fast-paced, counter-attack type football, (a) forward mentality. It's going to be difficult.
"None of these games will be easy for the rest of the season.
"Every game is make-or-break."
Glory defender Jordan Elsey is suspended after being sent off against Western Sydney.