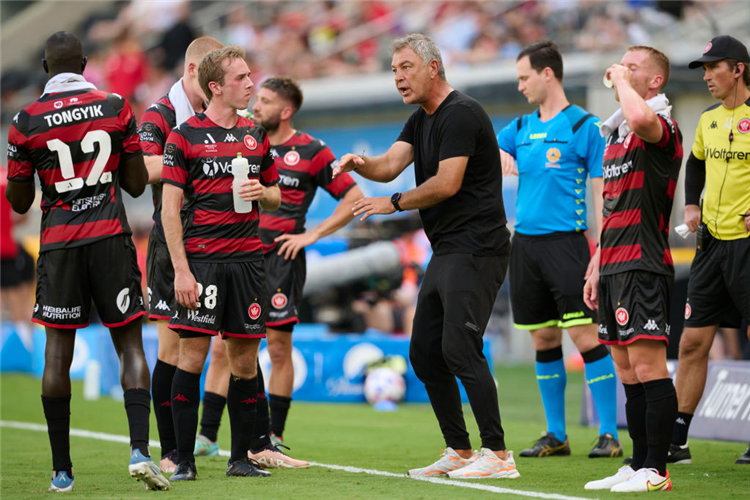 After sparking Western Sydney's thrashing of their city rivals, Wanderers forward Kusini Yengi says he has considered turning to a sports psychologist to get him at his peak every week.
Yengi scored the opening goal in Saturday's 4-0 drubbing of Sydney FC at Allianz Stadium and celebrated by taking his shirt off and holding it up to the home fans.
His celebration was greeted with a few projectiles from Sky Blues supporters and the 24-year-old says he revels in playing the pantomime villain.
"When it comes to the games, I'm always thinking about what I'm going to do especially when it's against a rival like Sydney FC," Yengi said.
"I planned that if I scored, I'd take my top off and hold 'Yengi' up to them.
"I enjoy it, I enjoy egging them on."
Yengi also scored the winner in the opening derby of the season, also at the Allianz Stadium, and his hit-rate at the venue led to him referring to it on social media as his "playground".
He may have made scoring in the derby look like child's play but Yengi concedes he needs to find a similar level of performance every week for Wanderers boss Marko Rudan.
Yengi's talent is plain for all to see - he's powerful, quick and comfortable through the middle or on the wing - but injury and inconsistency have thwarted his progress at the Wanderers.
"I enjoy the derbies but struggle to get myself going for the smaller games," he said.
"I'm constantly learning to find ways, maybe I need to speak to a psychologist or something like that.
"When you step into a stadium, you can hear the fans roaring and that gives me an edge to run faster and fight harder.
"When you go to a worse stadium or pitch, you don't really feel as motivated.
"I need to do some digging and find out what really motivates me."
The Wanderers are closing in on their first A-League Men finals finish since 2017 and next face Yengi's former club, and fellow title contenders, Adelaide at home on Friday week.