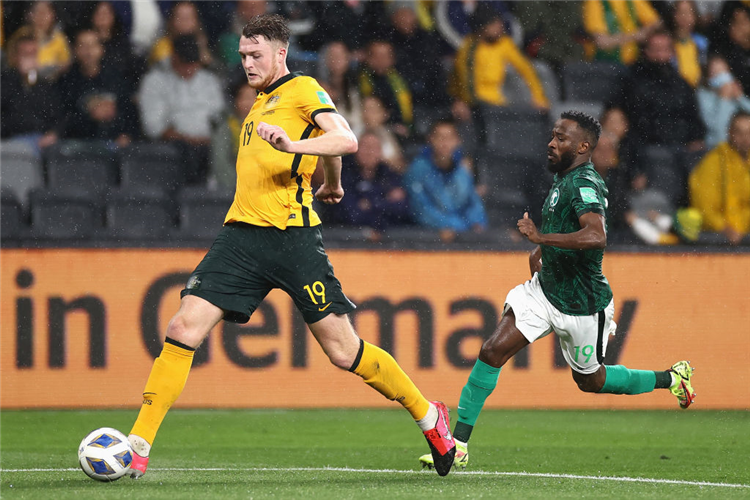 After his Herculean efforts at the World Cup that helped seal a move to Premier League outfit Leicester, towering Socceroos defender Harry Souttar feels he belongs as one of Graham Arnold's leaders.
Souttar is set to return to CommBank Stadium for Friday's game against Ecuador, 16 months on from an ACL injury that threatened to derail his career.
Souttar went down in the final stages of a lifeless 0-0 qualification draw against Saudi Arabia and, at the time, his injury was seen as a critical blow to Australia's hopes of making it to the World Cup.
But after coming back just in time to star in the tournament in Qatar to secure his move to Leicester, the 24-year-old looks set to become the bedrock of Australia's defence for many years to come.
"Look at the size of him - how can he not lead?" Arnold asked as he pointed to the 198cm defender on Thursday.
Friday's game will only be Souttar's 15th cap but his on-field presence reflects why he's seen as a natural contender to one day become Socceroos captain.
"It takes a little bit of leadership from everybody," the Scottish-born centre back said.
"You've got to be yourself, you can't pretend to be someone you're not.
"The most important thing is that you're vocal on the pitch.
"There's different types and the more leaders we have in the squad the better it's going to be for the team."
Souttar is the only Australian player currently plying his trade in the English top flight but there is a good chance that won't be the case for much longer.
He has adjusted well to the switch from Championship side Stoke, even if Leicester are locked in a tightly contested relegation battle.
"The concentration has been the biggest difference for me," Souttar said.
"The physio said to me after the first week, 'your heart rate is gone a bit high this first week'.
"I said, 'Yeah, I didn't need a heart rate monitor to tell me that'.
"The tempo has obviously stepped up ... there's no rest."