Type atleast three letters to find.
Champions Stakes
Australia | FEATURE RACE GUIDE
History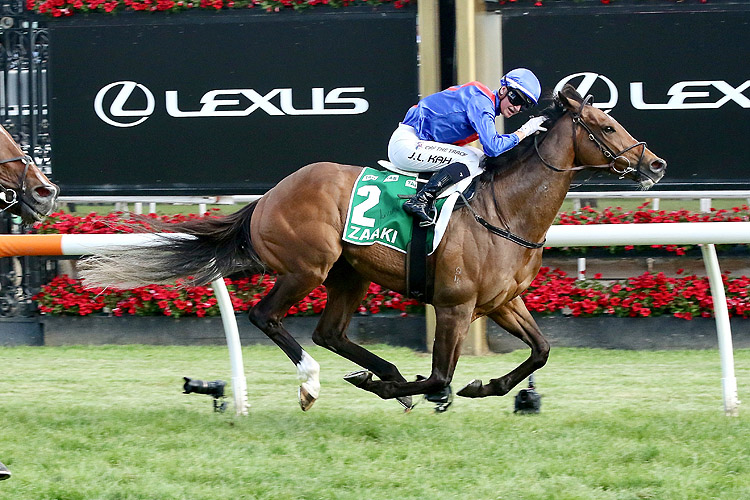 The Champions Stakes (Mackinnon Stakes) is a Group 1 race run under Weight For Age conditions for open class horses at Flemington conducted by the Victoria Racing Club.
The Champions Stakes (Mackinnon Stakes) is run over 2000m. It was first run in 1869 and was won by Glencoe.
The Champions Stakes (Mackinnon Stakes) (named after a former Chairman) has always been at the mile and a quarter or 2000m.
It was always run on the first day but in 2016 was pushed back to the final Saturday of the carnival to try and attract the Cox Plate winner to run plus other runners from that race.
The Mackinnon Stakes was a Principal Race until 1979 then Group 1.
It was previously known as the Melbourne Stakes but then as the Mackinnon Stakes before sponsored by Emirates in 2016. It was back as the Mackinnon in 2018 and then became the Champions Stakes from 2022.
When the race was run on Derby Day it was often a great guide to the Melbourne Cup with numerous dual winners or horses coming out of the race. That can't happen now with the change in dates.
Horses that come out of winning the Cox Plate had not had a great recent record. In fact last horse to do the double was So You Think in 2010 but he used it as 'practice' before valiantly running third in the Cup. Before him it was Better Loosen Up in 1990.
Last 3yo to win was Casual Pass in 2003. Only six have won it.
Trap For Fools beat home two Derby winners from around the world in 2018 with Latrobe (Ireland) and Extra Brut (Victoria) in behind.
Coolmore's Magic Wand ran well in the Cox Plate then was unlucky to not finish closer in the Melbourne Cup. She would back up four days later and win the Mackinnon. That meant with Hartnell (in his retirement race) running third, that two Royal Ascot winners were in the placings in 2019.
Mares won twice recently (Arcadia Queen and Magic Wand) but before that it was La Bella Dama in 2001.
The Champions Stakes (Mackinnon Stakes) was worth $3,000,000 in 2022.
Notable winners of the Champions Stakes (Mackinnon Stakes) include Zaaki (2021/2022), Arcadia Queen (2020), Magic Wand (2019), Tosen Stardom (2017), So You Think (2010), Desert War (2006), Grand Armee (2004), Lonhro (2002), Ebony Grosve (1997), Danewin (1995), Veandercross (1992), Let's Elope (1991), Better Loosen Up (1990), Horlicks (1989), Empire Rose (1988), Rubiton (1987), At Talaq (1986), Rising Prince (1985), Dulcify (1979), Family Of Man (1978), Leilani (1974), Rain Lover (1968), Tobin Bronze (1966), Sky High (1961), Tulloch (1960), Rising Fast (1954/1955), Comic Court (1949/1950), Flight (1946), Tranquil Star (1942/1944/1945), Ajax (1938), Peter Pan (1932/1934), Phar Lap (1930/1931), Gloaming (1924), Wakeful (1901/1902/1903), Carbine (1890) and Malua (1884).
The 2022 Champions Stakes (Mackinnon Stakes) was won by Zaaki from Mo'Unga and Hezashocka.

Previous Champions Stakes Winners
Related News