Type atleast three letters to find.
Tesio Stakes
Australia | FEATURE RACE GUIDE
History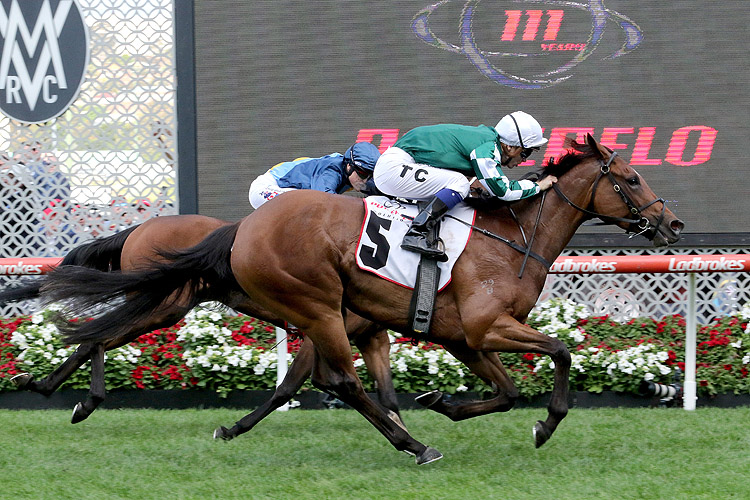 The Tesio Stakes is a Group 3 race run under Handicap conditions for four year old and up mares at Moonee Valley conducted by the Moonee Valley Racing Club.
The Tesio Stakes is run over 1600m. It was first run in 1988 and was won by Voltage.
It has only been run over the mile.
The Tesio Stakes became a Listed Race in 1990 then Group 3 from 1994.
It has been run under many sponsors names but registered as the Tesio.
In 2007 there was a dead heat for first between Autumn Jeuney and Maslins Beach. 12 months later amazingly there was a dead heat for first (Bird Of Fire/Miss Badoura) and a dead heat for third (Permission To Land/Princess Marizza).
These are usually the second tier mares who head to the Myer Classic or even Matriarch Stakes.
In 2001 La Bella Dama won this race at 25-1 and then backed up to win the Mackinnon Stakes at 30-1.
Those to do the Tesio Stakes/Myer Classic double are Zanna, Mingling Glances, Western Chorus and Echo Lass.
1995 winner Our Marquise was the half-sister to Octagonal, Mouawad, Kaapstad etc.
The Tesio Stakes was worth $200,000 in 2022.
Notable winners of the Tesio Stakes include Suavito (2014), Catkins (2013), Lady Lynette (2009/2010), Zanna (2003), Gentle Genius (2002), La Bella Dama (2001), Spectrum (1997), Miss Margaret (1996), Our Marquise (1995), Western Chorus (1991) and Princess Pushy (1990).
The 2022 Tesio Stakes was won by My Whisper from Roots and Sirileo Miss.

Previous Tesio Stakes Winners