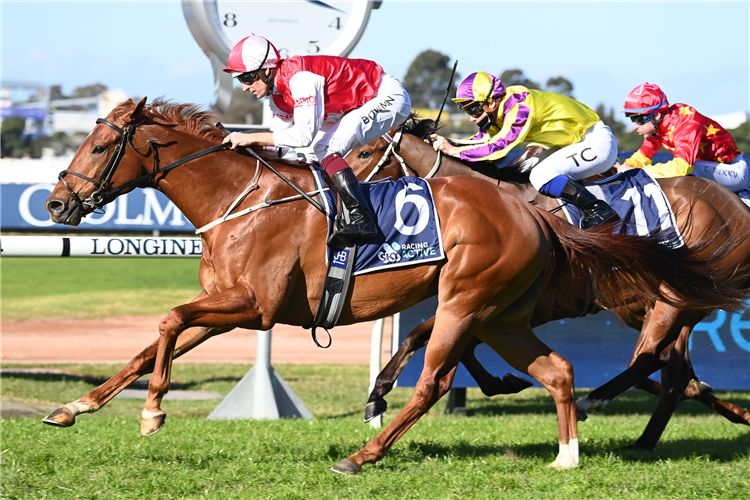 RANDWICK September 26
A Grass; Soft 7
17 Heats – 2 x 1200m (2 Open); 9 x 1045m (5 Open; 4 Maiden); 6 x 737m (1 2YO; 2 Open; 3 Maiden)
Expect John O'Shea would have been pleased with his results at this session as he stepped out several of his most promising prospects.
He won only two of the 17 heats but it was hard to miss the performances of many of his other runners in a sure sign he is in a good place with the team he has set for the late spring and early summer.
The talented PIZARRO showed he is in good form to continue his rise through the classes with a surging win in a strong open heat over 1045m (64.68; 35.46) where stablemate CHARLEISE, a new addition to the O'Shea stable, impressed with his strong second in his second trial since he left the Maher/Eustace team.
This was a heat with plenty of depth with SAVVY LEGEND and the classy prospect WATERFORD given easy work over the last 400m.
O'Shea's other heat winner COTEHELE led for a strong win in his 1045m heat (64.23; 34.78) and looks set to perform well fresh after two solid trials. Stablemate ROCHA CLOCK is trialling beautifully and again worked well within herself closing off under an easy ride from the rear.
The other O'Shea runners that have been added to the blackbook after showing up in their heats include COMRADE ROSA, PROMISE OF SUCCESS, WAIHAHA FALLS and BLACK ON BEAUTY.
The classy prospect WAIHAHA FALLS is certain to take plenty of benefit from his solid second to the good sprinter ELEVEN ELEVEN in their 1045m heat (64.61; 35.29) while COMRADE ROSA and BLACK ON BEAUTY had plenty in reserve finding the line impressively in their heats.
"Eleven Eleven given a real good sound out here this morning"

Eleven Eleven, trained by @HickmanRacing, wins a trial at Randwick on Monday, beating Waihaha Falls and Ausbred Flirt. @tabcomau pic.twitter.com/ygTnuBbTAO

— Racing NSW (@racing_nsw) September 25, 2022
The free running maiden filly ON THE BEACH bounced off her debut failure to record another sharp trial win in the fastest 1045m heat (63.61; 35.71), leading by six and costing home almost five lengths clear. She is unbeaten in three trials and this was the form the Waterhouse/Bott stable expected from her when she had her first start.
On The Beach put on a sharp display this morning in Heat 8 in a time of 1.03.61 for the 1045m @GaiWaterhouse1 @YulongInvestme1 pic.twitter.com/KAIT4sEeqo

— SKY Racing (@SkyRacingAU) September 25, 2022
LIGHT PRESS clocked the fastest time in the six heats over 737m (43.97; 33.82) and looks a nice maiden prospect for the Ron Quinton stable. Other maidens showing nice promise included RINGDEM BELLS, ONE WAY OR ANOTHER, TRADITION and PENNYPACKER.
The professional Vomo Island wins the lone juvenile Trial at Randwick this morning in a time of 44.24 for the 737m.

Mostro and Air Combat fill the minors.@SnowdenRacing1 pic.twitter.com/1wcyYXoQ2U

— SKY Racing (@SkyRacingAU) September 26, 2022
There was one heat for 2YOs over 737m won in good style by the Dundeel colt VOMO ISLAND (44.24; 34.02) from the Snowden stable. It's surprising to see a son of Dundeel show precocious speed so early in the season but the Snowdens are second to none with their juveniles.
NOTED TRIALS
X Black On Beauty; Charleise; Comrade Rosa; Cotehele; Huon; Light Press; One Way Or Another; On The Beach; Penny Packer; Pink Ivory; Ringdembells; Rocha Clock; Sir Artie; Tradition; Vomo Island; Waihaha Falls
Sir Artie, trained by @SnowdenRacing1 wins a trial at Randwick on Monday, beating Too Much Caviar and Zoukerino. Group 2 winner Promise Of Success and defending Kosciuszko champion Art Cadeau both ran on well. @tabcomau pic.twitter.com/snyHbcbtAO

— Racing NSW (@racing_nsw) September 25, 2022
WARWICK FARM September 23
Inside Grass/Poly; Soft 6
16 Heats – 4 x 1200m (2 Open; 2 Maiden); 3 x 792m (3 Open); 3 x 789m (3 2YO); 3 x 787m (3 3YO); 2 x 784m (1 3YO; 1 Maiden); 1 x 1175m (Poly- Open)
A classy open heat over 792m and the heats for 2 and 3YOs will be the source of future winners.
Expect improvement from the G1 winner IN THE CONGO the next time he goes to the races after he led for a strong win in a depp heat over 792m (47.32; 33.51). Controlled the speed and responded well when required over the last 200m. DRAGONSTONE took the eye with impressive work from last to finish second while KALLOS, PRIVATE EYE and BUENOS NOCHES all had plenty in hand through the line.
Last year's Golden Rose winner In The Congo leads all the way to win a Warwick Farm trial on Friday over the fast-finishing Dragonstone with O'President third. @GaiWaterhouse1 @tabcomau pic.twitter.com/NP9YIXjvWQ

— Racing NSW (@racing_nsw) September 22, 2022
The fastest 792m heat was won by the noted flier CAPITAL REIGN speeding over the trip in 46.29 (33.10) to score by two lengths. A nice trial form the runner-up MISS MADISON hitting the line strongly after changing course in the straight.
The Snowden stable won two of the three 2YO heats over 789m with smart types SNAPBACK (47.65; 34.56) and KING'S GAMBIT (46.63; 33.82) while Bjorn Baker picked up the other heat with ROCKABILLY REBEL (46.41; 33.49). All three look well educated for their race debuts.
Street Boss filly Rockabelly Rebel, trained by @BBakerRacing, wins a 2yo trial at Warwick Farm on Friday over Blind Date (by Headwater) with Her Excellency (Deep Field) in third. @tabcomau pic.twitter.com/Gpg7pLk0OI

— Racing NSW (@racing_nsw) September 23, 2022
Snapback, an $825,000 Snitzel colt with @SnowdenRacing1, takes out a 2yo trial at Warwick Farm on Friday - one day shy of his foaling date. He beat Hez Golden (More Than Ready) and Stockholm (Bull Point). @tabcomau pic.twitter.com/mqZfcNSKCt

— Racing NSW (@racing_nsw) September 23, 2022
I Am Invincible colt King's Gambit, trained by @SnowdenRacing1, wins a 2yo trial at Warwick Farm on Friday over Torre Egger (Written By) and Alfavita (Maurice). @tabcomau pic.twitter.com/dXYyAv2Fe6

— Racing NSW (@racing_nsw) September 23, 2022
The Baker team enjoyed another good session winning three of four 3YO heats with standout wins in the 787m trials by promising maidens INVEST IN LOVE (46.77; 33.97) and the unraced SHEZANALISTER (45.50; 33.09) who is now unbeaten in three trials.
INVEST IN LOVE (Bjorn Baker): Racy Capitalist filly looks to have come on nicely from her two starts in May, travelling easily in the lead and not put under pressure to hold her rivals comfortably in the run to the line.
SHEZANALISTER (Bjorn Baker): All speed from this unraced Star Turn filly to keep intact her unbeaten trial record. Sped to a big lead and kept running to post an easy win by more than six lengths in the fastest overall and sectional times of the morning.
NOTED TRIALS
XX Invest In Love; Shezanalister
X Buenos Noches; Capital Reign; Dragonstone; Global Empire; Havlicek; In The Congo; Iowna Merc; Kallos; King's Gambit; Private Eye; Rockabilly Rebel; Snapback; Sunshine In Paris; Wisdom Of Water