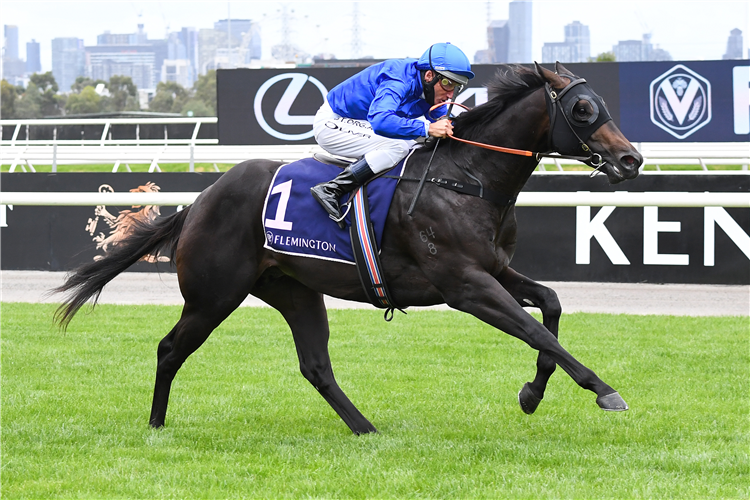 WARWICK FARM November 4
Inside Grass (Good 4); 14 Heats - 2 x 1200m (2 Open); 4 x 800m (4 2YO); 4 x 797m 3 (Open; 1 Maiden); 4 x 794m (2 Open; 2 Maiden)
Polytrack; 6 heats – 1 x 1175m (Open); 5 x 740m (2 Open; 3 Maiden)
The Matthew Smith-trained WAY TO THE STARS is airborne and is primed to continue rising through the classes after recording another brilliant trial win.
The Smith stable also has a nice maiden prospect in PARRYING after he added to his good record in trials with a big win in his heat over 797m.
PARRYING (Matthew Smith): Failed in his only start in March but he's recorded four trial wins either side of that performance that tell you he's got the ability to win races. Looks primed to go after running away with his 797m heat by more than six lengths in quick time (45.81; 32.65).
WAY TO THE STARS (Matthew Smith): This last start Warwick Farm winner again showed his abundant natural speed to lead his 797m heat with ease and was never tested to run out a soft 2.75 lengths winner in fast time with an electric last 600m (45.38; 32.27). He's won three of his seven starts and can add to that record in another suitable restricted event up to 1100m.
Gary Portelli is very good with his 2YOs and looks to have plenty of depth in his current team after winning three of four juvenile trials over 800m with TANGO FEVER (47.78; 33.96); GREYT THINKER (47.37; 33.61) and SENSE OF HUMOUR (47.86; 33.95). Pariah colt SENSE OF HUMOUR showed good pace to lead on the bit and while his time was slower than his stablemates I liked his good response when called on for an effort over the last 200m.
Pariah colt Sense Of Humour, trained by @GaryPortelli, leads all the way to win a 2yo trial at Warwick Farm on Friday, from On The Amazon (Zoustar) and Los Padres (Zoustar) in third. @tabcomau pic.twitter.com/sK6LKX4sNL

— Racing NSW (@racing_nsw) November 3, 2022
Snitzel filly EXCESS won the other juvenile trial for the Waterhouse/Bott team in the quickest time of the four heats (47.14; 33.46). She's a natural runner with an efficient action and did enough to hold off a strong surge from the Portelli-trained KIMOCHI, a Brave Smash filly who made up four lengths quickly over the last 100m.
Snitzel filly Excess, a daughter of 2013 Golden Slipper winner Overreach, wins a 2yo trial for @GaiWaterhouse1 & Adrian Bott at Warwick Farm on Friday over Kimochi (Brave Smash) and Lost (Exceed And Excel). @tabcomau pic.twitter.com/Q9ZfBq55A9

— Racing NSW (@racing_nsw) November 3, 2022
Everest runner INGRATIATING had an easy time in his open heat over 797m (46.32; 32.62), finishing a soft fourth behind SPATS PAV BOWIE without being asked for an effort. DEHORNED UNICORN and GLACIER QUEEN were others who took the eye with their easy work in this heat.
Noted wet tracker AMERICAN PRESIDENT trialled strongly on the good ground to win his 797m heat (47.56; 33.50), putting in nice work over the last 200m. The unraced NOSTALGIA, a Zoustar filly we have noted in earlier trials, made an impression winning the fastest of the 740m heats on the polytrack (44.12; 33.40) with something in hand.
NOTED TRIALS
XX Parrying; Way To The Stars
X American President; Angel Fund; Asap; Dehorned Unicorn; Estadio Mestalla; Excess; Flying Shelly; Glacier Queen; Ingratiating; Jewellery; Kimochi; Kouklara; Mon Pierre; Nostalgia; Passionate Rebel; Sense Of Humour; Star To Fall; Tango Fever; Thomas Max
More Than Ready filly Tango Fever, trained by @GaryPortelli, arrives in time to win a 2yo trial at Warwick Farm on Friday over Fire Lane (Hellbent) and Zoukerette (I Am Invincible). @tabcomau pic.twitter.com/dWcD9grlmQ

— Racing NSW (@racing_nsw) November 3, 2022
RANDWICK October 28
Randwick A Grass (Soft 6)
16 Heats - 1 x 1200m (Open); 6 x 1050m (2 Open; 1 2YO; 3 Maiden); 9 x 740m (2 Open; 3 2YO; 4 Maiden)
Polytrack – 2 x 1080m (2 Open)
NULLIFY (Peter & Paul Snowden): Nice return by this maiden in her first trial since August as she looked in good form peeling across the heels of the leaders in her 1050m heat (64.14; 35.52) at the 250m and showing a sharp turn of foot to put them away under the lightest of rides from Tommy Berry. Looks close to a win after six placings in 14 starts.
The open heats over 740m saw nice effort from the heat winner WATEGOS (44.61; 33.95) with the Godolphin pair VIENTIANE and KANAZAWA taking the eye with their soft placings.
The 2YOs to make an impression included ÀLLABOUTELLA and HELLBENT ON YOU, a pair of fillies who impressed finishing first and third in a slow 740m heat (45.21; 34.41).
Russian Revolution filly Line Of Law, trained by @BBakerRacing, wins a 2yo trial at Randwick on Friday over Cylinder (Exceed And Excel) and The Little Pumper (Shalaa). @tabcomau pic.twitter.com/JhQxomhigU

— Racing NSW (@racing_nsw) October 27, 2022
Maidens with good prospects include the 1050m heat winners ROYAL MERCHANT (63.75; 36.05) and WILD IRISH ROVER (63.86; 34.71) and the 740m heat winners FRILLED (44.58; 34.08); RICHON (44.39; 34.11) and BIOGRAPHER (44.26; 33.72). All three were erratic and can only improve with more experience.
NOTED TRIALS
XX Nullify
X Allboutella; Another Pedrille; Biographer; Frilled; Hellbent On You; Irish Legend; Kanazawa; Richon; Royal Merchant; Vientiane; Wategos; WIld Irish Rover