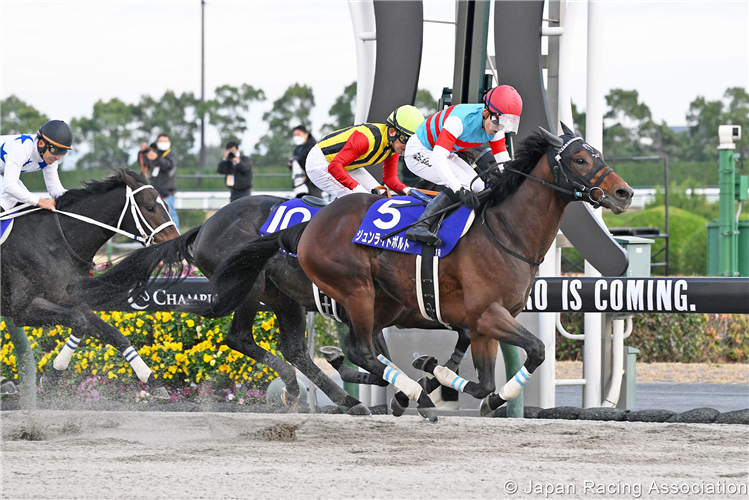 Third pick Jun Light Bolt demonstrated an impressive late charge to win this year's Champions Cup, registering his first G1 title in his only fourth dirt start. The King Kamehameha bay was raced over turf from his debut start in July of his two-year-old season until his four-year-old season last year, during which he won four out of 21 starts. Switching to dirt from this year, he won his second start, the BSN Sho (Listed, 1,800m) in August, and marked his first graded win in the previous Sirius Stakes (G3, dirt, 1,900m) on October 1. This win brought Trainer Yasuo Tomomichi his 17th JRA-G1 title following his Tokyo Yushun (Japanese Derby) victory with Do Deuce and his first JRA-G1 title over dirt. This also marked jockey Yukito Ishikawa's first G1 and seventh graded title since his debut in 2014.
Quick out of the gate, five-year-old Jun Light Bolt eased back to settle around ninth from the frontrunner. Though meeting traffic entering the lane, the son of King Kamehameha waited until finding an open space outside T O Keynes 200 meters out, then unleashed a powerful burst of speed with the fastest closing drive to overtake the frontrunners one by one including Crown Pride right before the wire for a neck victory.
"I can't find any other word to describe this other than "happy." I tried to feel the horse's rhythm and was confident that if we can find an open space after entering the lane, he would burst out. The colt responded so well that I knew we could win. Though I have yet to feel my first G1 win, I would like to savor this joy from now on," commented jockey Yukito Ishikawa.
Fourth pick and UAE Derby victor Crown Pride, while keen to go early, tracked the leader in second, inherited the lead at the top of the stretch and, though nosed out by the fast-closing winner just before the wire, held the rest of the field by 1-1/4 lengths for a runner-up seat.
Six choice Hapi broke sharply and eased back to settle behind Crown Pride in third of fourth position. The Kizuna colt overtook the tiring pacesetter 300 meters out but failed to close the gap between the runner-up and was passed by the winner in the last 100 meters while securing third place from T O Keynes by a neck.
Odds-on-favorite T O Keynes missed his break and traveled four wide around sixth from the front. The defending champion made headway entering the lane and advanced to third at the 200-meter pole but was unable to make ground and was overtaken by the winner in the last 100 meters to finish fourth.
Other Horses:
5th: (13) Shamal—tracked leaders in 4th, sustained bid, weakened in last 200m
6th: (2) Sunrise Hope—trailed in rear, advanced after 3rd corner, passed tired rivals
7th: (4) Smashing Hearts—saved ground around 6th, met traffic at early stretch,
responded briefly
8th: (9) Notturno—settled inside favorite around 6th, lacked needed kick at stretch
9th: (7) Auvergne—sat in 5th, chased leaders up to 200m marker, outrun thereafter
10th: (14) Tagano Beauty—positioned in 14th, closed in on frontrunners after 3rd
corner, showed brief effort
11th: (6) Red Galant—ran behind winner around 10th, circled wide, passed some
rivals
12th: (1) Gloria Mundi—hugged rails around 10th, met traffic at early stretch, unable
to reach contention
13th: (15) Sakura Allure—raced near rear early, made headway in backstretch,
weakened in last 300m
14th: (11) Badenweiler—settled 3-wide around 10th, unable to respond at stretch
15th: (8) Sunrise Nova—traveled in 13th, gradually dropped back after 3rd corner, no
factor
16th: (16) Red Soldado—rushed from widest stall to set pace, faded after 400m
pole