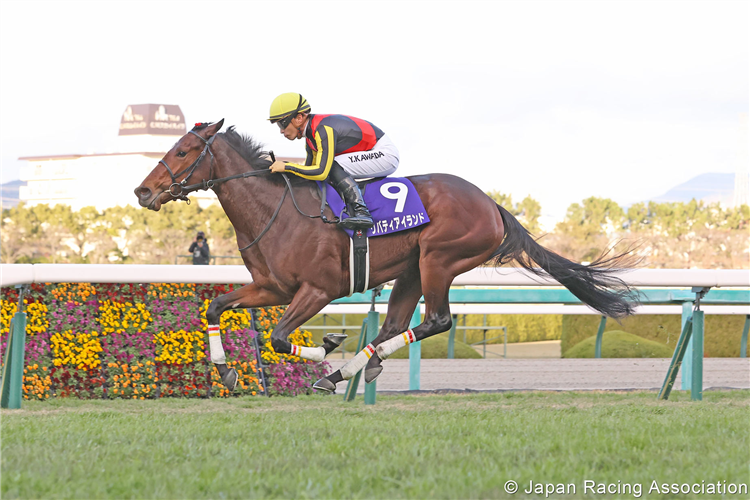 Liberty Island captured her first grade-race victory and G1 title in this year's Hanshin Juvenile Fillies. Debuting in July at Niigata over 1,600 meters, the filly won by an overwhelming three lengths margin and just missed by neck to Ravel in her following start in the Artemis Stakes (G3, 1,600m) at Tokyo Racecourse on October 29 despite meeting traffic at the stretch. Trainer Mitsumasa Nakauchida claimed his fifth JRA-G1 title and second in the Hanshin Juvenile Fillies after Danon Fantasy in 2018—his latest G1 victory was with Serifos in the Mile Championship last month. Jockey Yuga Kawada, whose latest JRA-G1 victory was in the NHK Mile Cup with Danon Scorpion this year, has now accumulated 21 JRA-G1 titles with the win.
Liberty Island broke smoothly and sat between horses in mid-field. Gradually making headway along the outside towards the final corner, the Duramente filly showed a different class accelerating effortlessly and pinning the leader soon after the 200-meter pole then continued to pull away to win comfortably by 2-1/2 lengths.
"I am happy that the filly was able to show her performance at its best today. I just let the filly choose the position within the field that she felt comfortable in and concentrated on maintaining the good flow and rhythm during the trip. She cruised along smoothly and her response when asked was just as I had imagined so I was quite confident that she would make it to the finish line. She has progressed well, including her loss last time out, towards winning this big championship race and she has given us a promising view on what to expect and aim for in her coming future," commented jockey Yuga Kawada.
12th favorite Shinryokuka, coming off just one win out of as many starts in October this year, chased the pace in a forward position two-wide around sixth to eighth position, entered the stretch along the ground-saving route while keeping up with the increasing pace and found another gear to split horses inside the furlong pole to out-rally her foes for second place.
Coming off a win and two runner-up efforts (the latter at G3 level), 10th favorite Doe Eyes was rated two-wide, a few lengths behind the eventual winner, then guided towards the inside route approaching the final corner and reached contention 200 meters out to close impressively for third place.
Other Horses:
4th: (4) Aroma de Rosa—raced forwardly around 6th on rail, ran willingly until 100m
out but failed to secure third place
5th: (10) Mississippi Tesoro—stalked winner early and into straight, passed rivals
while unable to threaten leaders
6th: (16) Dura—ran in rear after slow break, showed belated charge between horses
7th: (1) Santee Tesoro—set pace, showed tenacity after surrendering lead,
weakened in last 100m
8th: (8) Aim in Life—took economic trip around 15th, passed tired rivals
9th: (6) Miss Yokohama—saved ground around 10th, lacked needed kick
10th: (14) Bouton d'Or—unhurried in 14th, even paced at stretch
11th: (18) Ravel—broke poorly, trailed in rear, had too much ground to make up
12th: (5) Moryana—settled around 6th, switched to outside at early stretch,
gradually fell back
13th: (11) Itinerator—tracked leader in 2nd, remained in contention until 200m out
14th: (2) Kita Wing—raced around 5th on rails, ran gamely up to 200m marker
15th: (17) Umbrail—was off slowly, traveled 3-wide around 15th, never fired
16th: (7) Haupia—hugged rails around 12th, showed little at stretch
17th: (15) Moon Probe—sat 4-wide in 4th, outrun after final corner
18th: (12) Rivara—prominent early, faded after 200m pole