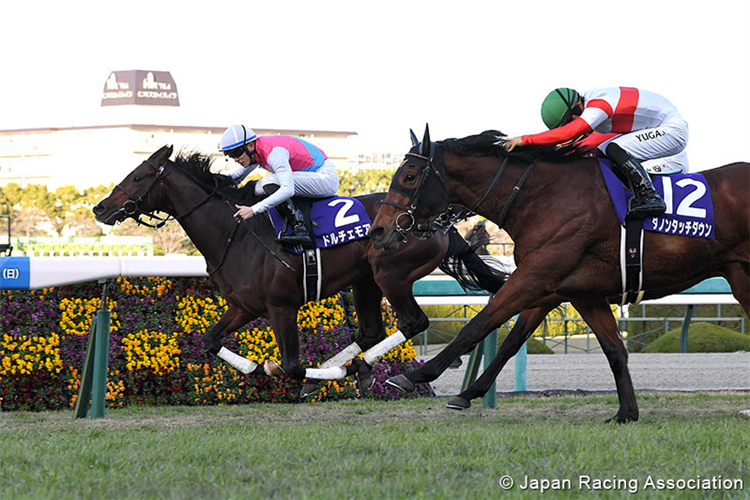 Race favorite Dolce More dominated this year's Asahi Hai Futurity Stakes, marking his third consecutive win in as many career starts. Foaled out of 2013 Oka Sho (Japanese 1000 Guineas) victor Ayusan, the bay colt broke his maiden in his debut race in August (Sapporo, 1,500m) before scoring his first graded victory in his next Saudi Arabia Royal Cup (Tokyo, G3, 1,600m) start on October 8. This victory becomes trainer Naosuke Sugai's 15th JRA-G1 win—his latest was with Sodashi in the Victoria Mile in May this year—while jockey Ryusei Sakai celebrates his second JRA-G1 win just after notching his first in October with Stunning Rose in the Shuka Sho.
Breaking from the second inner stall, Dolce More gunned for the lead but was eased back to third and saved ground behind All Parfait and Granite. Coming into the straight still behind the pacesetter, the Rulership colt was shifted away from the rails for running room, edged clear under left-hand urging while taking over the lead right after the 200-meter marker and held off a strong challenge from the second favorite to prevail by a neck.
"It all went as planned with the trainer, just as I had pictured. I expected the pace to be fast since there were runners coming off short-distanced races. My colt ran in a good position and responded and held on well. I'm grateful to have been given the opportunity to ride him today," commented Ryusei Sakai after the race.
Second pick Danon Touchdown, who came off a runner-up effort in his previous Daily Hai Nisai Stakes (G2, 1,600m) start, settled around 10th on the rails and switched to the outside at the top of the stretch, then launched the fastest late speed to overtake Labeling around 50 meters out but failed to make up ground to reach the winner and was second.
In his second career start, third choice Labeling moved up in the backstretch to camp wide in fifth from the front, kicked into gear in the straight and chased the eventual winner to the wire while caught by Danon Touchdown in the final strides for a neck third.
Other Horses:
4th: (1) Kyoei Brisa—hugged rails around 7th, showed effort to pass one by one in
last 300m
5th: (5) Bagradas—settled near winner around 5th, ran gamely until 100m out
6th: (3) All Parfait—set pace, showed tenacity after surrendering lead, weakened in
last 100m
7th: (7) Obamburumai—traveled 3-wide in 15th, passed tiring rivals at stretch
8th: (11) Tinia—sat around 7th, angled out for stretch run, even paced
9th: (16) Corpus Christi—unhurried in 13th early, needed more to reach contention
10th: (8) Granite—stalked pace in 2nd, sustained bid up to 200m pole, outrun
thereafter
11th: (9) Nishino Best One—trailed in rear, showed belated charge while timed 2nd
fastest over last 600m
12th: (4) Dondengaeshi—saved ground in 14th, struggled to find clear path on inner
route
13th: (13) Suzuka Double—ran 3-wide in 9th, unable to respond after final corner
14th: (6) Miscela Dorata—positioned around 10th, showed little at stretch
15th: (10) Ume Musubi—advanced to 3rd outside winner, faded after 300m out
16th: (15) From Dusk—was off slow, raced near rear, no factor
17th: (17) Emphasize—traveled 3-wide around 10th, never fired