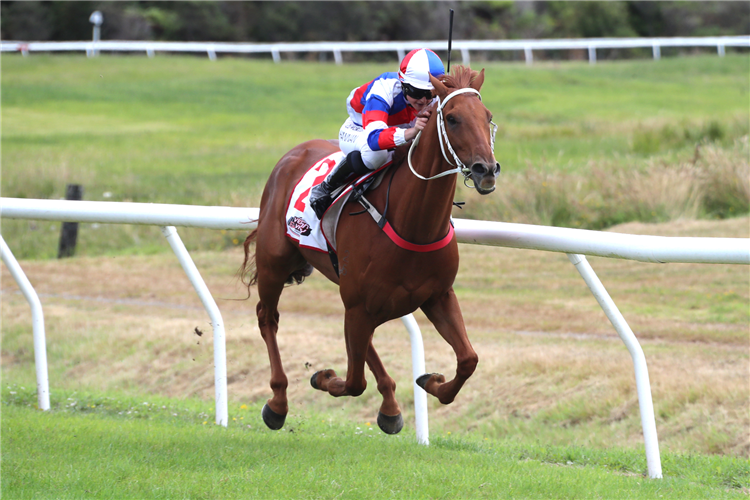 The pair have been great supporters of South Island racing, campaigning a team in the south regularly, but they have now elected to establish a permanent base in the region, headed by Williams.
"We have got nine horses down here (Christchurch) at the moment and I have got 23 back up at home (Ruakaka)," Rae said.
"Krystal came down with the horses for the New Zealand Cup (Gr.3, 3200m) and I stayed at home, and after the New Zealand Cup she said she wasn't coming home.
"She is really happy down here and the horses all look great."
While a southern stable has been on the cards for several months, the devastation to Northland roads following weather events earlier this year, further cemented their decision.
"The biggest impact on Ruakaka has been the roads. The main road is not open yet and we have already had our trials cancelled," Rae said.
"If they don't open the roads, trainers won't come to Ruakaka and if that does happen I will just ship more of them down here.
"The road we come down through Mangawhai is so windy. It is an extra 40 minutes to get to Wellsford and Wellsford is only a 45-minute drive on the main highway. It is absolutely shocking."
The stable has already enjoyed good success from their southern base, headlined by The Buffer .
The son of Reliable Man has won four of his six starts since moving south last October and placed in the Listed Timaru Cup (1600m) in December.
He has had to overcome large imposts in his last two outings and Rae was pleasantly surprised by the outcome.
"He is getting too much weight, I didn't think he could win his last start, but he did," Rae said.
"He is not a big, robust horse. We can't fault his condition, but the weight is going to get him sooner or later."
The gelding has been allotted 62kg top-weight in the Seaton Family Memorial Hororata Gold Cup (1800m) at Riccarton on Saturday, but he will get some weight relief courtesy of apprentice jockey Jeetesh Mudhoo's three-kilogram claim.
"He (Mudhoo) is apprenticed to Stephen Marsh and Krystal is next door at the track and he has been riding the horse in work, so you have got to give him a chance," Rae said.
TAB bookmakers believe he can overcome his large impost once more, installing him a $4 joint favourite for Saturday's assignment alongside the Kevin Myers' trained Bully Boy.
The Buffer's part-owner Richard Bishop will be trackside cheering on his pride and joy on Saturday, and Rae said he has been their biggest supporter with their southern venture.
"His main owner is Richard Bishop and he lives down here (Christchurch). He is Richard's pride and joy," Rae said.
"He had a half-share in Prom Queen and he told me this morning that since then he has had 24 wins with us in about five years. He is just loving it.
"That's what it is all about, people enjoying it. It is not all about the money."
Following Saturday, The Buffer will have one more run in New Zealand this preparation before Rae considers a trip across the Tasman with the six-year-old.
"Richard wants me to take him over to Queensland, but he has been up for a fair bit and the horse will do the talking," Rae said.
"The Canterbury Gold Cup (Gr.3, 2000m) is his last start here. That is his grand final."