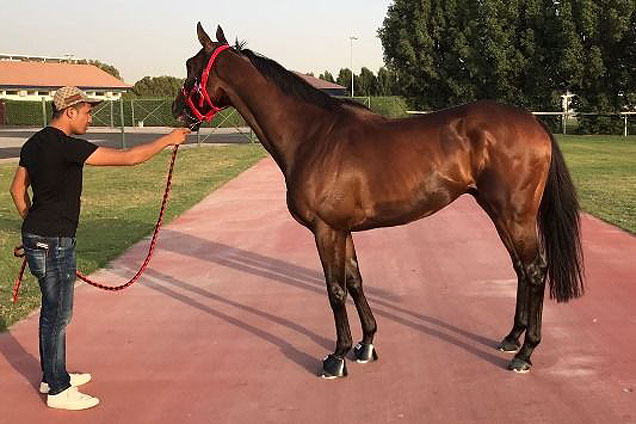 Then known as El Picaro and a three-time Group 1 winner (1600m-2000m on the turf) in his native Chile as a two and three-year-old, the horse tried his luck in America where he was unplaced in four starts, before being sold to continue his racing career in Hong Kong under the care of trainer Danny Shum.
And it was his Hong Kong form – all three wins on the all-weather track over 1650m – that Le Grange hopes will get his Singapore career jump-started after two unplaced runs, albeit over unsuitable sprint trips on the turf.
The latest was a throw at the Group 1 Lion City Cup (1200m) stumps, but like a boxer needing more than just miles in his legs, Le Grange suggests Hongkong Great will benefit from those two runs.
"I think the term is 'ring rusty'," said Le Grange on Tuesday morning.
"You can work them and trial them all you want but horses like this, they need the fight of a real race.
"He was probably underdone – he was off a long break - but he has come through those races in good order and we couldn't be happier with him stepping up to the mile."
A look at the Polytrack at the races for the first time is also something that Le Grange is looking forward to.
"Absolutely," the South African native continued.
"His sand form was obviously far superior compared to his turf form in Hong Kong, which was strange given his Group wins in Chile were on the grass.
"The race on Saturday looks ideal and while he gives weight to the other runners, he is the class horse, so 58.5kgs shouldn't be too much of a worry.
"His recent trial (win on August 30) was very good too, so he's cherry ripe in my opinion."
Like all Polytrack races on the mile, tactics are only penciled in until after the barrier draw on Wednesday morning but Le Grange thinks a forward run is on the cards.
"Given how he raced when he won in Hong Kong (led throughout at all three wins), (jockey) Danny (Beasley) will probably have him on the speed, but we will wait until we see what gate he gets."
Looking further ahead, Le Grange hopes the horse can show his best in the two remaining Group 1 races in the year – the Queen Elizabeth Cup (1800m) on October 15 and the Singapore Gold Cup (2000m) on November 19 - for his owner, Yue Kwok Yin Edmund.
"The Yue family are big owners in Hong Kong and Singapore racing is lucky to have them racing here," explained the trainer who currently sits fourth on the premiership with 28 wins.
"I'm so grateful to be training for them. They are passionate about horses and it would be wonderful to see Hongkong Great do well in Singapore for them."
Le Grange has two other horses in the race – Pennywise and Leatherhead – and believes both have realistic chances in what is an open race.
"He's a grand old horse," said Le Grange of Pennywise, who is having start no. 49 on Saturday.
"Being back on the Polytrack will suit him and he's had some good duels with Leatherhead in the past.
"(Apprentice jockey) Yusoff (Fadzli) will ride Pennywise and (jockey) Zyrul (Nor Azman) was on Leatherhead in a (barrier) trial this morning (finished third in heat no. 3) and he's won on him before, so he can have another go on Saturday.
"It's good to have three nice runners in this race."
Elsewhere on the card, Le Grange also has multiple runners in two other races - King Louis and Tony's Love in the $50,000 Class 4 race over 1800m and Rocketship and Yes One Ball in the $50,000 Class 4 race over 1000m.
Like most Le Grange horses, all four look well placed to show their honest best but the amicable handler has been most impressed with Yes One Ball of late.
"Look, I thought he was a Class 5 horse only," he said of the five-year-old.
"But he's showing me he's better than that and it's really pleasing to see him being so competitive in Class 4.
"Yusoff will ride him as (apprentice jockey) Krisna (Thangamani) is suspended for Saturday and he (Yes One Ball) deserves a win."