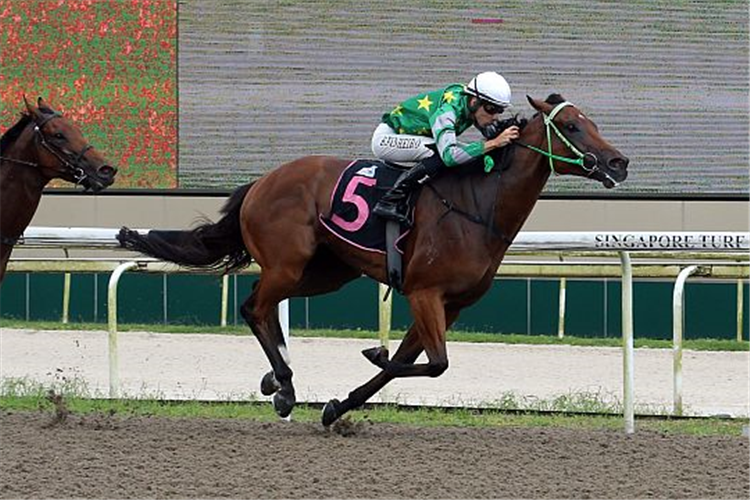 The 26-year-old Brazilian scored four winners on September 3 and 10 at Kranji, before flying over to Kuala Lumpur, Malaysia for a second time this year, where he brought up a quartet of wins (High Water, Isfahan, Eye Guy and Gassur) last Sunday.
Prior to that short trip, he also rode four winners (High Water, Estijaab, Good Fight and Isfahan) from five rides at his first visit to the Selangor Turf Club on August 20.
That rich vein of form has led to better opportunities for Pinheiro in his opinion. He has seven rides at the Singapore meeting on Saturday with a handy newcomer in Super Salute in the $50,000 Class 4 Division 2 race over 1200m for Jason Lim, which he thinks is one of his better mounts.
"I think my form in both Singapore and Malaysia over the last five meetings (13 winners from his last 34 rides) has helped me pick up some better rides and Super Salute looks a nice horse," said the jockey who currently sits 11th on the jockeys' premiership.
"He won a race in Australia and had some good placings. I have been working on this horse since he arrived and he trialled very well (won heat no. 1 on September 8), so he should run well.
"I ride another newcomer (One Zero One) in the last race ($50,000 Class 4 race over 1100m) and he is also working well. He's an American horse so the Poly(track) should suit him."
Of his other rides, Thomas De Lago, Fabu, Tigarous and Golden Tiger are all in solid form and will appreciate the service of the in-form Brazilian hoop, although My Man, who is running in the $70,000 Class 3 race over 1000m, will need to improve on recent form.
"I finished second on Golden Tiger last Saturday and he is a strong horse, so he can back up and ($30,000 Class 5 Division 2 race over) the mile is no problem.
"I beat Tigarous into second at his last start but he is ready to win and he galloped well this week.
"Thomas De Lago has drawn wide but he is usually honest and I watched the replays on Fabu, he always looks a chance. Hopefully, I can have a good day."
Born in the countryside in Rio de Janeiro and based in Dubai, Pinheiro took the long route to finally landing a five-month visiting licence from the Singapore Turf Club back in June; an ambition the popular hoop had harboured for many years.
He first flew over to Singapore for three hit-and-run Group 1 missions on Mr Clint for the famous Oscar Stable three years ago, before being invited by the same owner, Mr Phua Chian Kin, to ride Mr Malek in the Group 1 Kranji Mile in May this year. Mr Malek did not win the big race, but Pinheiro bagged two winners (Pennywise and Sky Eye) on the Undercard.
With top riders from around the world plying their trades at Kranji - and with their relationships already formed with the bigger stables - Pinheiro knew it would take time to find his feet and the right rides.
At the beginning of his short-term riding stint at Kranji, Pinheiro garnered support from trainers like Steven Burridge and Ricardo Le Grange, which saw him getting four winners in July – including a hat-trick of wins on July 24 with Senor Don and King Louis (both Le Grange's) and Lion Spirit (Kuah Cheng Tee) – that suggested he had a future.
"It was tough getting good rides at the start," said Pinheiro on Thursday morning.
"Steven has been very nice to me and Ricardo was very supportive of me early and I very much appreciate that as I didn't know other trainers that well.
"Other trainers and owners knew me better through those rides – especially the winners for Ricardo – and now I get rides from everyone that needs me – CT Kuah, Jason Lim and many others."
So how did Pinheiro – whose signature move is mounting all his horses unaided - find his way to Singapore?
It started with an ambition to use his skills in the saddle – which saw him win two apprenticeships in his native Brazil – to see the world and ride against the best jockeys.
"I was one of the only jockeys from Rio de Janeiro to travel around the country, similar to how I ride here in Singapore and Malaysia. I love to ride and I would ride seven days a week if I could; that's what I do!" he said.
"Then, I got a chance to travel to Uruguay with Perfect Bullet, who was a Triple Crown champion in Porto Algere in 2017, and I was lucky enough to get an invitation to ride in Dubai.
"So I used Dubai as a base – I am now the first rider for (trainer) Majed Al Jahoori and second rider for (trainer) Musabbeh Al Mheriri.
"My plan from the start was to travel and ride somewhere else in the off-season, so watching (jockey) (Joao) Moreira and (Manoel) Nunes in Singapore gave me direction.
"I wasn't successful in getting a licence in Singapore early but lucky for me (former Malaysian trainer) Shane Edwards followed me on Instagram and contacted me to ride in Malaysia in 2019.
"To be honest, I didn't even know where Malaysia was, but I looked at the map and saw that it was next to Singapore, so I thought 'why not' and Shane suggested it may be a foot in the door if I could ride some winners.
"Luckily for me, Shane looked after me with some good rides. I got a three-month work permit and rode 33 winners and a Group 1 on Truson for Shane in the Selangor Gold Cup (2019).
"I also rode for Oscar Stable and 'CK' (Chian Kin) Phua offered me the ride on Mr Clint in the (Group 1) Singapore Derby in 2019."
Pinheiro almost won that race (he finished second to Sun Marshal) and returned to just miss out by a nose to Makanani in the Group 1 Raffles Cup in September on the same horse.
The pair was unplaced later in the year in the Group 1 Queen Elizabeth II Cup before the COVID-19 pandemic put a stop to any short-term travel plans.
Not to be deterred, Pinheiro continued to apply to ride in Singapore when borders re-opened and on the back of that double success for Le Grange at the Kranji Mile meeting in May, he got the good news that his short-term licence was approved.
Hard work and some winners in Singapore followed but Malaysia had been good to Pinheiro, so when Fin Powrie – Chief Stipendiary Steward from the Selangor Turf Club - called late last month, the Brazilian listened.
"Mr Powrie called to see if I was interested to be a visiting rider and of course I was keen as I love riding," said Pinheiro.
"But I'm committed to Singapore so I'm very thankful to the Singapore Turf Club for allowing me to ride in Malaysia when I had no engagements at Kranji. Very thankful."
The rest is history with eight winners from 16 rides at two recent meetings in Selangor (and with another four rides this Sunday) but Singapore remains his focus.
"My contract finishes at the end of October and I want to ride as many winners as I can in Singapore," said the likeable Brazilian.
"I have already applied for a contract next year after the Dubai season finishes (in April 2023) and hopefully, the Club welcomes me again.
"The racing is very good in Singapore, the country is amazing and I'm loving my time here."
And his time is not finished yet with some big races coming up, especially with his mainstay, Mr Malek, in the feature races.
"He (Mr Malek) will be better over more distance, so the (Group 1) QEII Cup (1800m) and the (Group 1 Singapore) Gold Cup (2000m) will suit him," he said.
"I would love to ride a Group winner for Steven and CK as they played a big part in my journey."