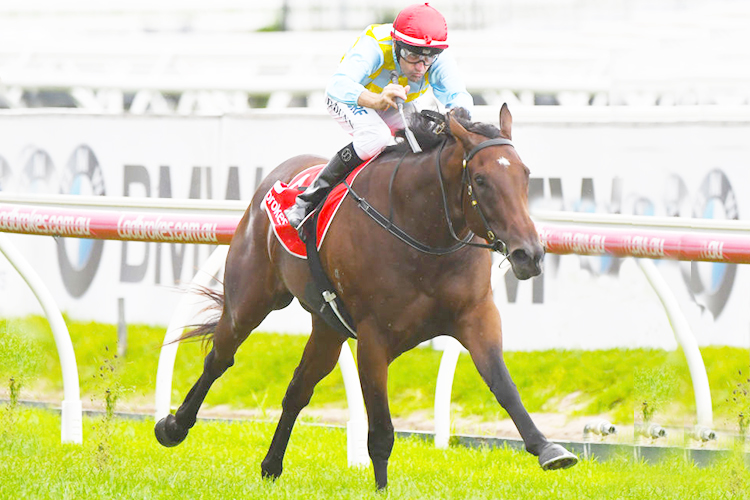 Booker showed great class in it and we could see more in the 2023 Kevin Hayes Stakes (1100m) at Sandown Hillside on Saturday.
2023 KEVIN HAYES STAKES - RACE HISTORY AND BACKGROUND
The Kevin Hayes Stakes is a Group 3 race for three year old fillies conducted by the Melbourne Racing Club.
The Kevin Hayes Stakes was first run in 1984 and was won by Fork Tongue.
The Kevin Hayes Stakes is run over 1100m under Set Weights and Penalties conditions. It was worth $200,000 in 2023.
The race is registered as the Boronia Stakes. The race was Listed until 2013, then Group 3 afterwards.
Most runnings have been at Caulfield but it was at Sandown when Caulfield was out of play for reconstruction in 1996 and again in 2023.
Absolut Glam won a G1 Tatts Tiara later in the prep after winning her Kevin Hayes.
Typhoon Tracy won it at her second start before winning a Coolmore Classic three runs later.
Off her Oaks victory, Hollow Bullet managed to win the Kevin Hayes first up.
Notable winners of the Kevin Hayes Stakes include Gilded Lily (1989), Mahaasin (1991), Rubidium (1996), Chalee (1997), Rainbow Bubbles (1999), Fair Embrace (2002), Brief Embrace (2003), French Bid (2004), Hollow Bullet (2005), Absolut Glam (2008), Typhoon Tracy (2009), Set For Fame (2010), Sabatini (2015), Fuhryk (2017), Booker (2018) and Argentia (2022).
The 2022 Kevin Hayes Stakes was won by Argentia from Scorched Earth and Asfoora.