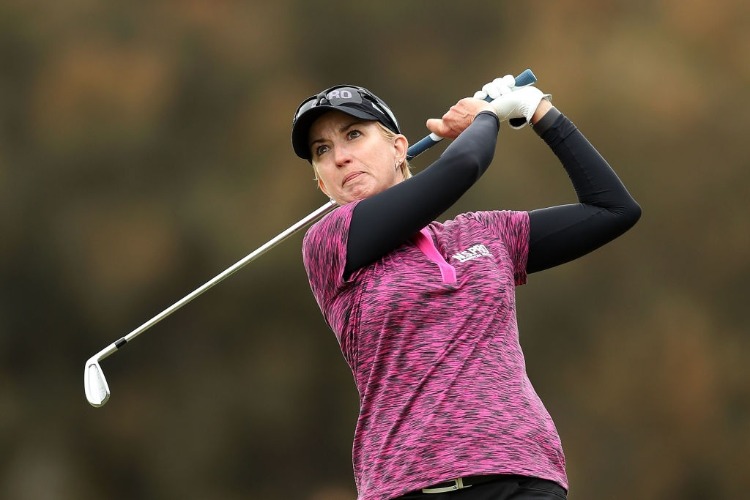 Having proved she still has what it takes to win big-time golf tournaments, evergreen Karrie Webb shapes as a genuine contender at the Vic Open.
The seven-time major winner claimed her maiden senior title in style last year when she beat fellow Hall of Famer Annika Sorenstam by four shots to salute at the Senior LPGA Championship in Kansas.
The challenge for the 48-year-old will be much different over the next four days at 13th Beach against the likes of another former world No.1, Jiyai Shin from South Korea, a host of Australia's best young stars including Su Oh and Grace Kim and LPGA Tour regulars Sarah Jane Smith and Sarah Kemp.
"To win, it really doesn't matter what the quality of the field is and when I say quality of field, it's always viewed on world rankings," Webb said.
"There's so much talent in this field.
"It might not be names that everyone knows, but there are tons of talented players here.
"It's about being sharp enough and playing well enough for four straight days and I haven't done tons of four-round events in the past three years.
"But anything is possible.
"I hope that I put myself up there with a chance to win - I'd love that opportunity, I'd love to be in the hunt.
"When I did win the Senior LPGA last year it was the first time I had the chance to win a tournament for quite a few years.
"I just love the feeling of that and being back in that situation."
Webb will play alongside the 34-year-old Shin for the opening two rounds, allowing the pair to reprise their classic duel at the 2008 Australian Open, when the Australian triumphed in a sudden-death playoff.
"I couldn't believe it when I saw that," said Webb.
"It's gone quite quickly when you think about it.
"Jiyai was just up and coming at that stage and now she's a world veteran - she's won majors and played on the LPGA and is now doing well on the JLPGA."
One notable absentee this week is reigning Vic Open champion Hannah Green, who will instead play in next week's $US5 million ($A7.2m) Saudi Ladies International where the winner will pocket $US750,000 ($A1.1m).
The prize pool is the seventh highest in women's golf and dwarfs the combined $A840,000 on offer for the men's and women's Vic Opens which will again run concurrently on the 36-hole layout at Barwon Heads.
The Vic Open men's field includes Australians David Micheluzzi, Mathew Goggin, Elvis Smylie and Ryan Ruffels.
Former junior prodigy Ruffels will be making his first start on home soil in four years.