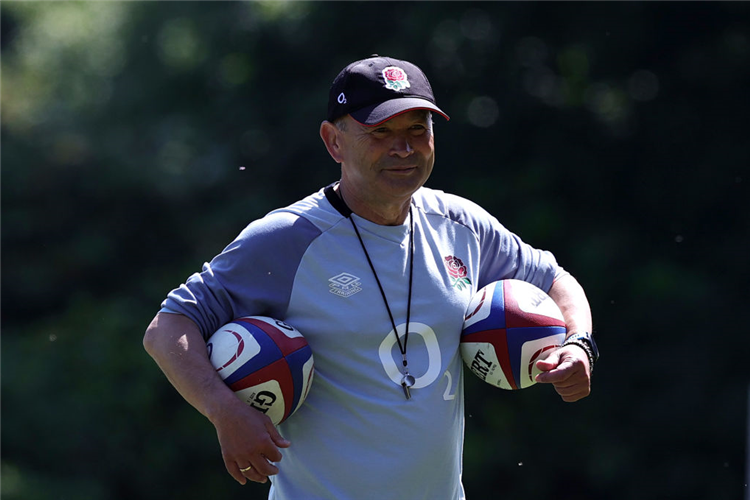 Eddie Jones admits the Wallabies are in the chasing pack but still close enough to catch the favourites and win September's Rugby World Cup.
Jones, after a 15-minute technical glitch, gave his first wide-ranging interview from England on Thursday after his shock appointment on Monday.
He said the battle to wear the No.10 jersey in France was wide open, touched on the side's ill-discipline and current eligibility laws, assessed the health of the code in Australia and had a neat return-of-serve to rugby league powerbroker Peter V'landys in the latest code-war chapter.
But when asked if he genuinely thought the inconsistent world No.6 side could win the World Cup this year, he was serious.
"There's no long term; the whole thing is to win the World Cup in 2023," said Jones, who is on a five-year contract.
"We have to concentrate on areas that will make the biggest difference to the performance of the team and we have to get selection right.
"And we've got to create an environment where players are going to give that little bit more, because nobody knows how much they can give."
Jones will have just five Tests to prepare his men before the Cup and he turned to racing parlance to assess the current power rankings.
He says feels there's still time for the field to settle with the team who improves the most between now and October set for victory.
"At the moment France and Ireland, in a horse race they're at the front on the top of the rise," he said.
"But there's still plenty of work to do.
"Australia and England are nestled behind them and the team that improves the most over the next nine months will win the World Cup.
"This is the most intriguing World Cup we've ever seen.
"Throw in the volatility of the refereeing at the moment with red and yellow cards.
"You've got all these things happening that give us this massive opportunity."
He said every player would have a chance to "select themselves" in club rugby and that replacing Rennie before his contract was to expire at the end of this year wasn't in his control.
"I wasn't thinking, 'I can do this better than Dave, or, I'm a better person', it's not that at all," he said.
"It's the fact that there was an opportunity there that as an Australian when you get a chance to coach your country you want to do it, mate."
Jones had already indicated he will seek out former rugby stars now playing NRL, Australian Rugby League Commission boss V'landys telling AAP that he wasn't concerned of poaching given the tedious nature of the code.
Asked for his thoughts, Jones called V'landys - also the chief executive and a board member of Racing New South Wales - the "horse guy" who had been "sitting in the TAB too much" and invited him to a Super Rugby game.
In a boost for James O'Connor's hopes after he was cut from Rennie's extended squad, Jones said he'd base selection on Super Rugby Pacific form and keep an eye on his foreign-based playmakers.
But Jones admits time isn't on his side when it comes to settling on a preferred partnership, with rival five-eighth Quade Cooper's recovery from an Achilles tear counting against him.
"We are going to have to decide quite quickly who we think are the best nines and tens and 12s, particularly, to try and build up that cohesion," he said.