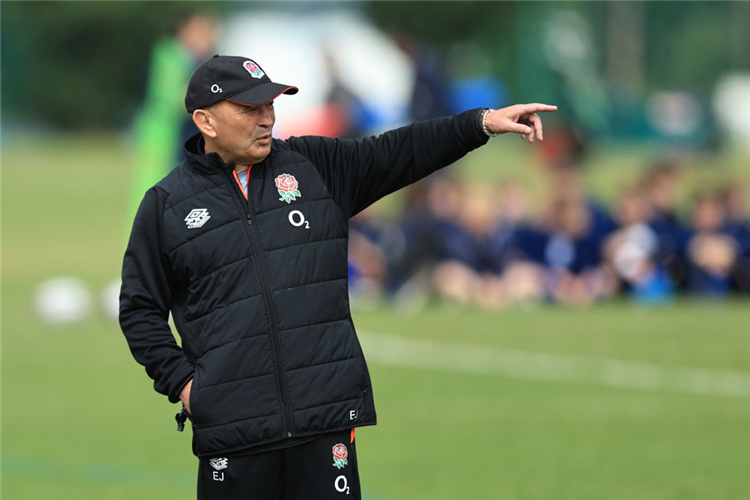 A cheeky jab at Peter V'landys has ensured Australia's footy code wars remain alive and well but a serious Eddie Jones knows he's got a job on his hands to restore the health of rugby in his Wallabies return.
The man who coached Australia to the World Cup final in 2003, and was then punted in 2005, will resume his post later this month after Monday's shock axing of Dave Rennie.
It comes ahead of France's Rugby World Cup, which begins in September, and the five-year deal encompasses a 2025 British and Irish Lions tour of Australian and a home World Cup in 2027.
It's a crucial period for the code that was hit hard during COVID-19 and in a fierce battle for relevance with the NRL, something neither Jones nor Australian Rugby League Commission chairman Peter V'landys need reminding of.
V'landys has already fired back at Jones' intent to poach NRL players, telling AAP any code-hopper would need to take their phone onto the field and use social media to fill their time in a jab at a sport he deemed tedious and lacking action.
In reply on Thursday Jones said V'landys, who is also the NSW Racing boss, had been "sitting in the TAB too much" and invited him to watch a Super Rugby game.
"If we can play some good rugby, people will want to watch us play," Jones said.
"And if we win, then we'll be in a better position in the media ... we might even get, what's his name, the horse guy, to a media conference - V'Landys."
The wise cracks will continue between the two combatants but there was a serious side to Jones' banter.
"In the Australian rugby landscape, rugby league is a pretty intense competitor, and they compete for the fans, they compete for television money, they compete for the players," Jones said.
"I've heard guys who I've coached they tell me their sons don't watch rugby anymore.
"That happens when you're not connected with your fans, and part of that is the winning process and part of that is how we conduct ourselves.
"There's a clear message; we've got to try to become a team of the rugby community, and that's hard in the professional era where you need to have good training camps, and you can't spend the amount of time in the public as you used to."
He hinted he would place more emphasis on that then Rennie, who based his men almost exclusively at a Gold Coast resort in training camps and during series.
In contrast, then-England coach Jones had his squad at schools, clubs and in public settings during their 2-1 series win in Australia last year.
"It's maybe a slight change in direction in how the team operates, having good training camps but also spending time at a school, at a local rugby club, doing some training in that environment," he said.
"So the young kids see their stars, and they have a conversation with a Tate McDermott or (Len) Ikitau, or Jed Holloway or a James Slipper, and that conversation they have will make them want to play rugby."