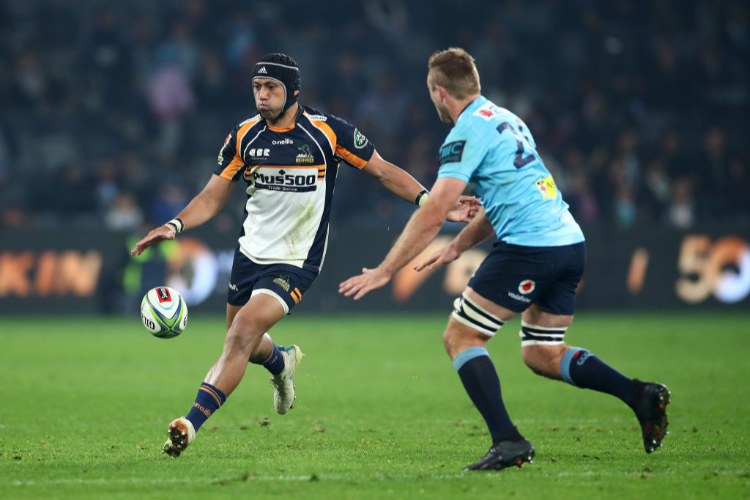 Emotions will be high when Christian Leali'ifano returns to Canberra for the first time as a Moana Pasifika player to battle his former side on Saturday night.
Leali'ifano, quite simply a Brumbies legend, boasts 150 caps with the club and only two people have captained more games, while he also beat leukaemia and made an emotional return to the side in 2017.
But after signing with Japanese rugby and more recently shifting to the Pasifika outfit, the five-eighth will now take to GIO Stadium looking to end his former side's undefeated start to the Super Rugby Pacific season.
Brumbies coach Stephen Larkham admitted it was an odd feeling trying to shut down the 35-year-old who means so much to the club.
"It's good to see him back in Canberra, he's special to this team, special to his community. It's just a great moment for our community to have someone like that back," he said.
"It's hard to not cheer him on ... every other week we're certainly cheering him on.
"He came into the club and checked in on a few of the old boys ... it's good for Christian, he's got family here still so it's good to catch up with them and some of the others here in the ACT."
Once the emotion of the moment subsides, the Brumbies' goal is simple - avenge a disastrous loss to Moana Pasifika from last season and continue their undefeated streak.
Moana knocked the Brumbies off 32-22 in Auckland last May, the first time they'd beaten an Australian opponent in what was a flattening loss for the ACT side in their run into finals.
But while some might view Moana as 'easybeats' - they went 2-12 last season and are 0-3 this campaign - Larkham said their style of play was anything but lacking in effort and physicality.
"Last year they were probably an unknown and they had a lot of adversity ... they've certainly learned from that experience," he said.
"They've got a really good coaching staff, that group has stayed together now and you can see from their performances this year they're much-improved.
"They're not the team they were last year. They've gained experience and they're a lot stronger particularly with their set piece."
The Brumbies will again miss captain Allan Alaalatoa after he took a head knock in round two, while forwards Connal McInerney and Luke Reimer have been named in the starting side.
Bench options Jack Wright and Charlie Cale are looking to make their Brumbies debuts.