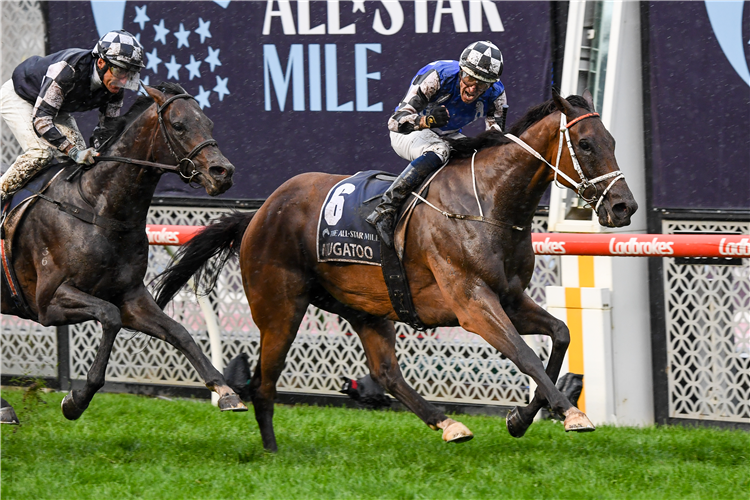 Like the Golden Eagle plays off Derby Day, the All Star Mile plays off Golden Slipper Day - one of the very best on the Australian Calendar.
In certain scenarios this works wonderfully (see Everest/Caulfield Cup), and in others not so much. There is good and there is bad. But this is a betting blog not a soapbox and so it is on with the show.
The structure of the race makes it hard to work past the front end but with half-a-dozen rated 120 or higher by Timeform there is depth enough at the top to create a terrific betting contest and from that contest we find an appealing betting angle.
I'm Thunderstruck, second here last year, has looked a touch plain this preparation and early markets have moved on. 2-1 and 15-8 in the lead ups give way to 11-2 now and that appeals as good value for money in a scenario that will surely suit him better.
Thunderstruck has won just one of 10 starts in the 12 months since his All Star second where not even a prizepot bigger than the national debt could draw out enterprising tactics from any of the 14 behind Zaaki. Thunderstruck was strong in the finish, shaping as well as Zaaki on the day, before backing that up with a terrific Doncaster second conceding Mr Brightside weight.
These performances viewed alongside wins in the Toorak and Golden Eagle show a horse well equipped for the hustle and bustle of big field, big money miles.
The Thunderstruck that won the Toorak and Golden Eagle was able to stand up and absorb pressure, rallying bravely to win both – particularly the Toorak where tough and willing were the adjectives of the day.
They may not have been thrown around as much lately. One from 13 since completing that double in the spring of 2021 has Thunderstruck being questioned on both. But ideal scenarios have been few and far between and he's been better in those 13 runs striking at 7.7% than he was striking at 66% in the nine runs prior.
Fast times gave Thunderstruck up as a topliner very early on but in those 13 races across 2022 and 2023 only three have been won in a time that could be called fast. In map-mad Melbourne racing often seems to start at the corner, with everything prior to that merely shuffling the deckchairs.
Those three fast races were the Doncaster (second and best at the weights), the Makybe Diva (powerful late to close down a well-ridden Alligator Blood) and the Memsie (strong in the finish and second to the well-ridden Snapdancer.)
The two at a mile saw Thunderstruck at his very top. The Memsie not quite but evidence points to Thunderstruck being much better served at a mile than 1400m.
Four times Thunderstruck has switched to the mile from 1400m and his rating has improved all four times. +3 +5 +8 +6 for an average between 5-6lbs.
This campaign, despite looking to be outpointed and even disappointing in two runs, Thunderstruck has produced ratings of 115-119 which has him coming off a higher base up to the mile than he has in the past. Average improvement, conveniently, hits him right on his peak and that would leave the vast majority of Saturday's rivals gasping. It is no easy task to match motors with one who has gone necks and heads from an on-song Anamoe.
Alligator Blood, his Futurity conqueror and (by virtue of better tactics) more prolific winner, along with Doncaster nemesis Mr Brightside are the two most likely to stretch Thunder should he peak with that thriller in the Makybe Diva a poignant pointer to the former's chance.
But the ace up the Alligator's sleeve is likely missing on Saturday, with others engaged to force the pace, and the odds don't reflect the fair fight that this should be.
For an each-way play we roll back to race four where a valuable handicap for three-year-olds is headed by a trio that have nice wins at Pakenham to their names.
Bel Air, Russian Dancer and Toronto Terrier have all impressed and have chances but it is Acclimatise that takes our fancy as a general 25-1 shot with his chance appearing a good bit better than that after getting off the mark nicely at Ballarat last time, putting good margins through the field despite slow early fractions.
Acclimatise also offers up the chance to tip the hat to jockey Harry Coffey who has been returning strong numbers in the saddle for long enough now to say that he is not in top form but is rather just a top jock.
THE MELBOURNE MAIL
Bet Of The Day: Race 7 #1 I'm Thunderstruck @ $6.50
Each Way Play: Race 4 #6 Acclimatise at $26.00