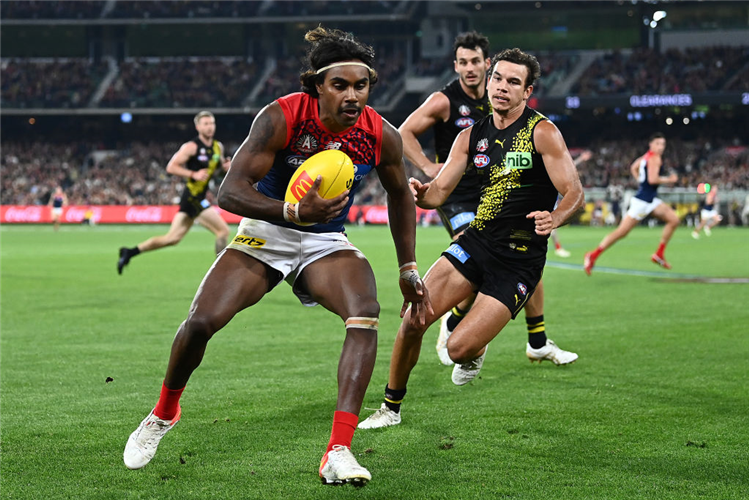 Adelaide forward Shane McAdam has been banned for three games by the AFL Tribunal after using Melbourne ace Kysaiah Pickett's bump as part of his defence.
Pickett was suspended for two games for his blow which felled Western Bulldog Bailey Smith in the opening round.
The Crows, defending McAdam's rough conduct charge from a similar incident, used Pickett footage and Sydney megastar Lance Franklin's bump which resulted in a one-game ban during round one.
McAdam contested the grading of his hit on GWS' Jacob Wehr during a 70-minute hearing on Tuesday night.
But after deliberating for a further 40 minutes, the three-member tribunal chaired by Jeff Gleeson QC, suspended the 44-gamer for three matches.
McAdam's hit on Wehr was graded as severe impact, careless conduct and high contact by match review officer Michael Christian.
But Adelaide's Tom Duggan QC argued there was no severe head contact when McAdam chiefly made contact with Wehr's chest and shoulder, dispossessing the Giant of the ball.
"In that sense, it's entirely legitimate for a bump to be made ... it's perfectly fine," Duggan told the hearing.
"This is clearly not a high bump because it doesn't in any way involve the head.
"Yes it was a tough bump but ... it was entirely fair."
Adelaide also used video of past bump incidents which resulted in two-game bans for Patrick Dangerfield on Jake Kelly, and Paddy Ryder on Will Day.
And the Crows tabled a report by Dr Robert Crowther, a biomechanics expert, describing the hit as not having significant head contact on the Giant.
Andrew Woods, for the AFL, said McAdam, with a "high degree of carelessness", breached his duty of care to Wehr.
"It fell below what a reasonable player would consider prudent," Woods said.
The potential to cause injury had to be considered when penalising McAdam, he said.
"There's a deliberate ... launching of the body," Woods said.
"It was a turning and a launching and a choice to bring the amount of force."
Melbourne's Pickett's accepted a two-game ban and avoided a tribunal hearing after his bump was deemed high impact, careless conduct and high contact.
The similarities of the Pickett and McAdam incidents with differing gradings and outcomes for the pair, have been queried by some players and pundits.
Collingwood stalwart Scott Pendlebury is among those calling for a change to the match review system.