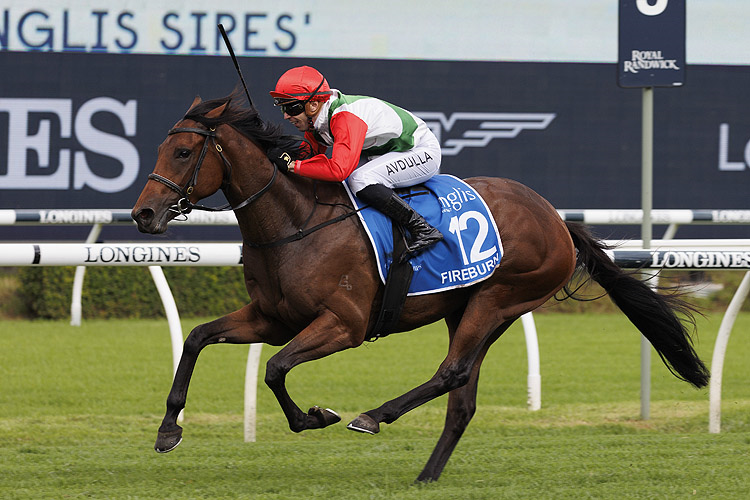 Anyone who has paid even scant attention to the Golden Rose this week will have learned that a filly is yet to win the $1 million event at Group 1 level.
Forensics won the first of two editions run in 2008, which was the final year before its upgrade to Group 1 level.
Peak Timeform ratings suggest the girls have not had as good a chance since.
With four acceptors, it will be heaviest Golden Rose representation by females since five ran in 2010, and two of them – Fireburn (118) and She's Extreme (117) – own the highest peak Timeform ratings.
The only other time a filly has been the highest-rated runner in the Golden Rose was 2010 when Crystal Lily ran 11th as a 122-rater.
This year's race sees more fillies towards the top of the peak ratings than any other year.
Favourite In Secret (113) is the equal fourth highest-rated, level with Daumier, and behind only the two top fillies and Best Of Bordeaux (115).
Outside Crystal Lily the only other fillies closer to the highest-rated runner in a Golden Rose have been Yankee Rose and Bring Me The Maid.
Yankee Rose was a 120-rater the year she ran sixth behind Astern (122), while Bring Me The Maid had a rating of 113 going into the 2014 edition that was headed by Hallowed Crown (115).
"Best Of Bordeaux is rated 115 and will be the highest rated colt in this year's Golden Rose, equalling Hallowed Crown who, to this point, is the lowest-rated top colt in a Golden Rose," Racing And Sports senior handicapper Simon Dinopoulos said.
"That highlights the lack of top-end talent this year compared with previous editions.
"So, while the fillies are yet to land the feature event, they won't get many better chances than this Saturday."
Fillies' best results in the Golden Rose since 2009 are a hat-trick of second placings; Speak Fondly (2015), Omei Sword (2016) and Champagne Cuddles (2017).
Their strength this year is reflected in the market with In Secret TAB's $3 favourite and she will become the second shortest-priced filly to contest the race if she holds that quote.
Nechita ($2.50) started shortest of the girls, while Bring Me The Maid ($3.50) is the only other filly to start favourite.
Just four other fillies have started single figures, while 11 of the 23 who have run started $21 or longer.
"Zero from 23 doesn't make for good reading but the market only expected two wins during that period," Dinopoulos said.
Fireburn and She's Extreme are on the cusp of single-figures and it would be no surprise to see them shorten from their current $10 quote with TAB if the predicted rain arrives.
Paris Dior, the other filly engaged in this year's race, has a peak Timeform rating of 107 and is a $19 chance.
2022 GOLDEN ROSE PEAK TIMEFORM RATNGS
118 – FIREBURN
117 – SHE'S EXTREME
115 – BEST OF BORDEAUX
113 – DAUMIER, IN SECRET
112 – JACQUINOT
111 – GOLDEN MILE
110 – SEBONACK
109 – POLITICAL DEBATE, BROSNAN
108 – SEJARDAN, BASQUIAT
107 – PARIS DIOR
105 – PROMITTO, FAST WITNESS
100 – MILLANE, ZOU TIGER